Article written by Lawrence Gullery for stuff.co.nz
A Kiwi company which powered onto the electric bike market six years ago, recently sold out of its newly launched 2021 range. Ubco is now taking orders for its new Work Bike and Adventure Bike range, designed in New Zealand but manufactured overseas. The company believed climate change and pressure from consumers and governments to reduce carbon emissions was fuelling demand for electric bikes.
Ubco's research suggested urbanisation and demand for different modes of transport within cities was also driving interest in alternative technologies. The company, based in Tauranga, first marketed its electric bikes as a concept at Fieldays in 2014, as an alternative to petrol bikes on farms.
First orders were placed the following year and the company continued to exhibit at Fieldays winning the International Innovation Award in 2018. Ubco's marketing manager Kat Sutherland said the company recently set up distribution markets in Australia, the US, Europe and the UK. But the New Zealand agriculture sector would always be one of its key target consumers, even more so now as the Government flagged it wanted farmers to record and reduce on-farm emissions.
Sutherland said the new Work Bike, described as a "solid mud-ready workhorse", ticked a lot of the environmental boxes for farmers.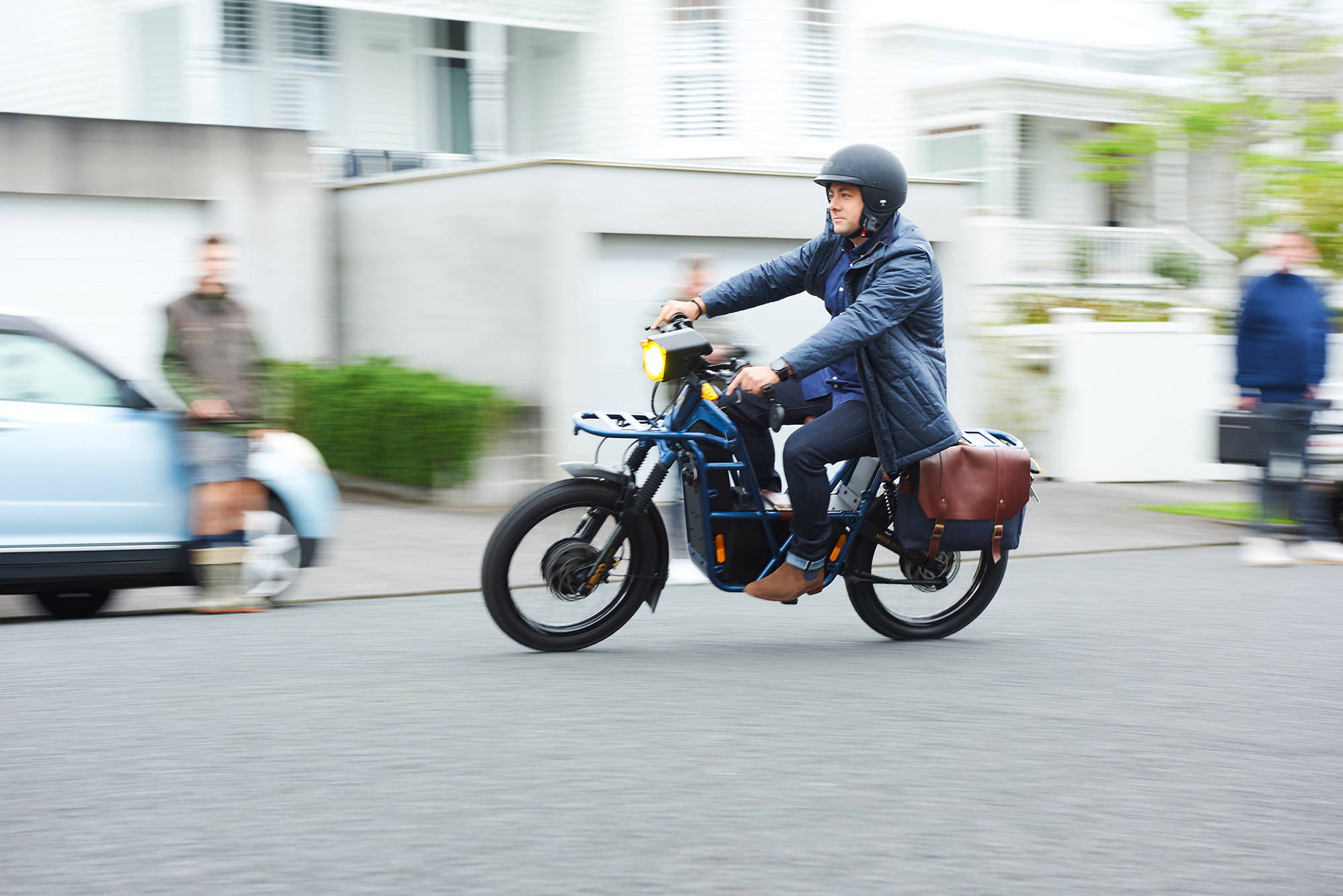 "There are no emissions from the bike, you don't have to worry about fuel storage. It is also very quiet and farmers tell us that's good for when they want to move around stock. "They can hear their dogs running next to them and the two-wheel drive feature means it's good for going cross-country."
The Work Bike had a motor in each wheel to tackle variable terrain as well as super knobbly tyres for extra traction. It had a utility frame which allowed the user to bolt on extra gear to increase its carrying capacity. The battery life, speed and range of the bike were normally questions farmers raised, Sutherland said.
The specs showed the Work Bike had three battery options, 2.1kWh, 2.6kWh and 3.1kWh. It could reach a top speed of 50kmh and range was 120km, depending on capacity. The battery could be recharged by plugging it into a power supply at home.
"We have designed the battery to be fully disassembled so a customer can return a battery to us and we can make sure it is recycled or reused. "We're really taking ownership of that environmental issue with batteries and showing some innovative stewardship."
Sutherland said the Work Bike was also ideal for hunters, who would enjoy the utility bike's ability to carry more equipment and its silent running. She said the bike would also be a useful tool on orchards, vineyards, for those working in pest control, tourism and conservation. The Adventure Bike was the road version with extras like mirrors, indicators, multi-use tyres for on and off-road. It could be registered to drive on road in any country.
"We've had interest from commercial fleets, an example is Domino's Pizza in New Zealand, which uses the Adventure Bike to deliver pizzas," Sutherland said.
Ubco offered a "tech platform" which enabled businesses to monitor the bikes, locate them, see how much charge is left in the battery, for example. "We had a situation where one of the bikes was stolen and we were able to locate it for the customer, geo-fence it which means we could stop it from being used. "And we were able to tell police exactly where it was."
The Adventure Bike had been a hit in the US with holidaymakers. "We know people are attaching them to the back of their big RVs, going into the wilderness and then using the bikes to explore parks." Sutherland said Covid-19 had slowed the international supply chain which was holding up orders for its bikes. She said the company had no plans to manufacture the units in New Zealand at the moment. "We would never rule out that possibility but at the moment its more efficient for us to get them made offshore."