Here at UBCO, we have always been connected to conservation and tourism. One of our very first test riders was Roy Baker from the Department of Conservation in the central north island of New Zealand, and our first fleet was to Real Journeys in Queenstown.
Now, with the impacts of COVID19 being felt around the world, like many things, travel and tourism is likely to be different moving forward (at least in the short-term). It will be interesting to see where the 'new normal' lands and how tourism operators around the world adapt. With many international borders closed, perhaps it will lead to a renewed focus on domestic tourism. Seeing and experiencing your own country.
"As an immigrant (I came to New Zealand as a 9-year-old), I have never understood why many New Zealanders itch to travel 20,000 miles to holiday when they have barely scratched the surface of Aotearoa. I have traveled extensively in New Zealand and experienced so many facets of this country, yet it feels like I have still only seen a tiny slice." Timothy Allan, CEO, UBCO.
Just before lock-down started here in New Zealand, we filmed an innovative tourism operation based on the offshore island Great Barrier or Aotea. Aotea is a 3-4 hour boat trip, or 30-minute plane ride from Auckland city, situated on the outer edge of the Hauraki Gulf in New Zealand's only National Marine Park. It is entirely off-grid with over 70% of the land as a protected Conservation Park and the whole island is a Dark Sky Sanctuary.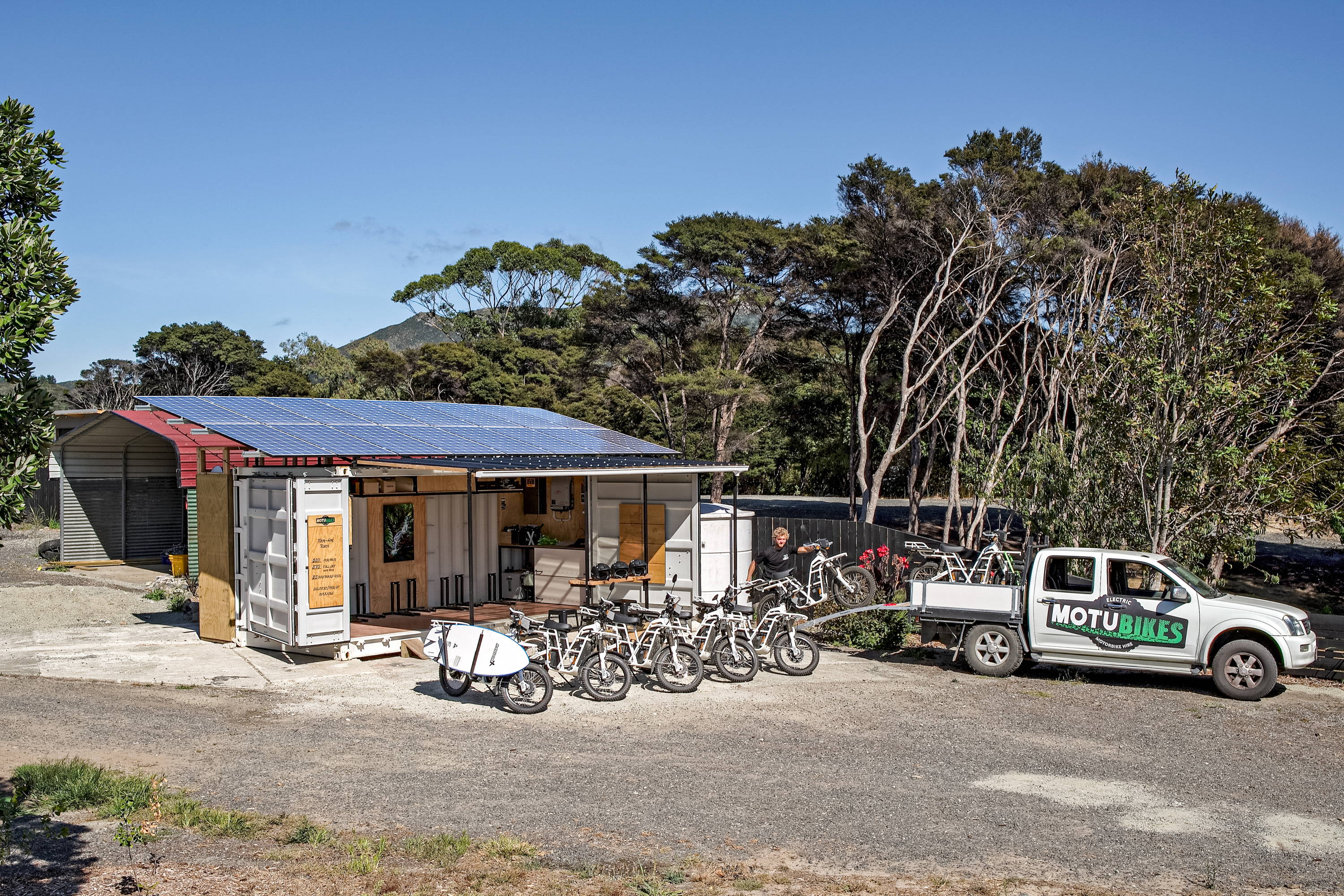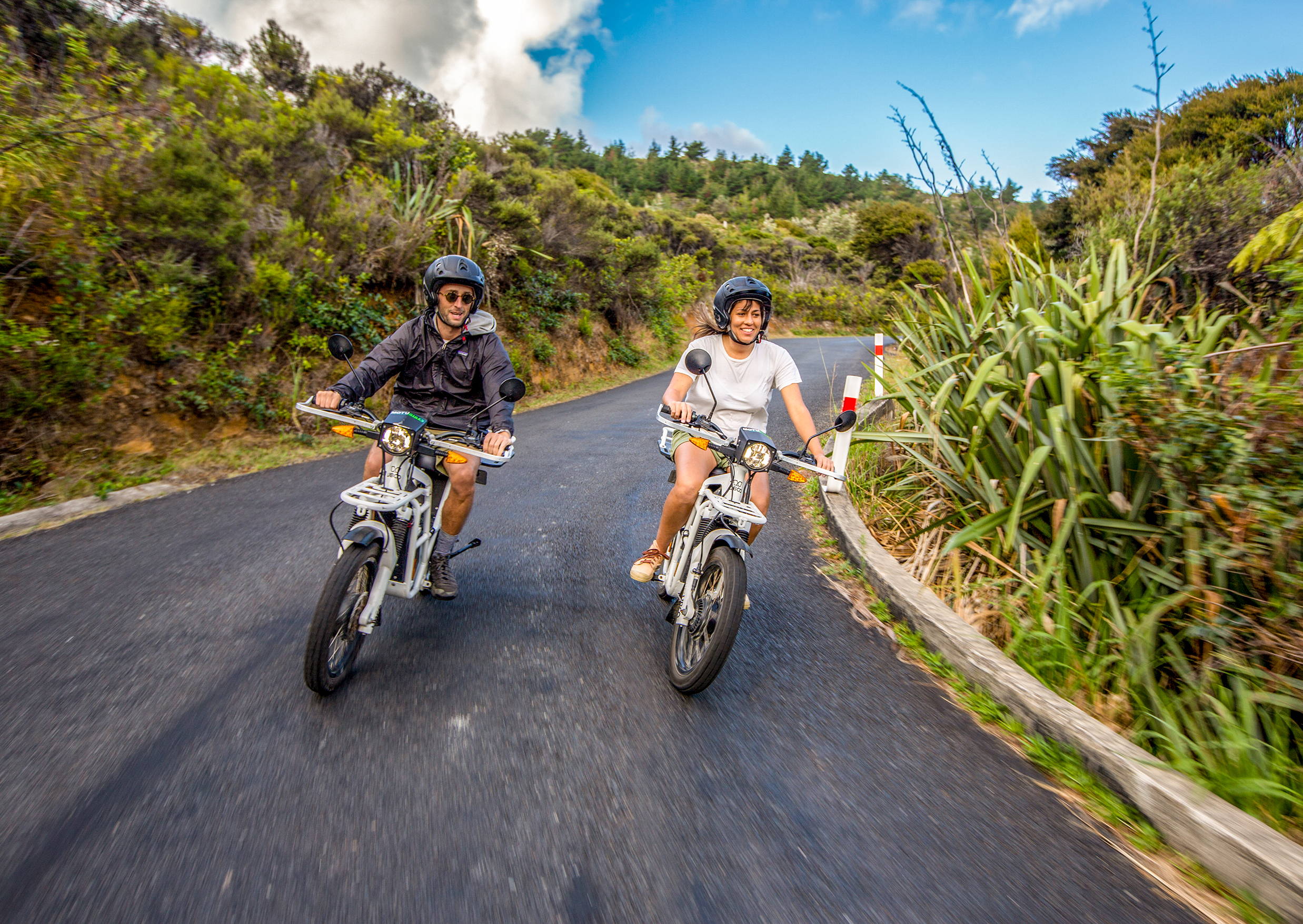 Motubikes is an electric motorbike hire business that allows visitors to experience Great Barrier island life in a fun, low impact way – with an UBCO 2X2. Large tyres, good suspension and two-wheel drive traction make the UBCO 2X2 the perfect option on the island's narrow, winding roads and mix of road surfaces. Motubikes aims to be very environmentally sustainable. The entire setup is run out of a shipping container so is compact, with no foundations or other permanent impacts on the land and all 9 bikes (with spare batteries which are easily changed out) are charged entirely by solar power.
Motubikes is the perfect example of a business, that whilst appeals to the international tourism market, is just as viable if domestic travel as the only option for a while. It's a tourism adventure perfectly suited to those wanting to explore their own country further.
Owner-operator Seagar Clarkson makes sure everyone gets comfortable with the bikes, offers island insights and advice for each visitor based on their level of experience and interests, and then lets people loose to go at their own pace. Silent and simple operation means it is easy to stop anywhere and enjoy the peace and quiet or spin a yarn with locals or other visitors on the way. The fully solar installation and low impact ethos aligns well with the Aotea culture of self-sufficiency and could be the first installation of its kind globally (we are yet to see another fully off-grid system for charging rental vehicles).
Wondering what the future holds for Seagar's tourism operation? We spoke to Seagar about his plans to get up and running again post COVID19 lockdown.
"To be honest, I'm predicting that we'll be fairly busy this summer. Great Barrier is on a lot of Kiwi's bucket lists as a corner of this paradise they haven't been to yet. And with restricted travel, the island will be very appealing – beautiful beaches, forest and oceans makes this a pretty special island getaway. All that's needed is a sense of adventure."
Seagar started the business as a way of being able to live and work on the Island. With surfing, diving, fishing and general outdoorsy opportunities abound, he wanted to do something that would enable him to make the most of the place he loves.
"We are super impressed with Seagar's set up. A totally self-contained station with a fully solar-powered fleet of bikes. That's transferrable as a business model to locations all over the world. Low impact, low cost, epic experience." Timothy Allan, UBCO.
And that's exactly what Seagar has set his sights on, particularly in a world that is looking closely at mitigating impacts of high tourism numbers. Future plans include similar setups around the country or even throughout the Pacific and helping other tourism ventures who may be interested in setting up their own operations based on the proven Motubikes model. As Seagar points out, "All this idea needs is some sun and an awesome location to explore."
"For me, Motubikes is the perfect lifestyle business, and also a way I believe the future should be looking at heading. Battery and solar technology is good and improving rapidly, it's great fun and there are very real environmental benefits – not just by going electric but also going smaller, lighter and using less resources than the traditional and often unnecessary car. The ideal scenario would be to hands-on run the business during the summer, while travelling and helping others set up their operations in the off-season, supporting them all year round." Seagar Clarkson.
Keen for a trip to Great Barrier Island? Seagar generally runs Motubikes during the extended summer months (starting at Labour Weekend at the end of October) but bikes are available for hire all year round. www.motubikes.co.nz