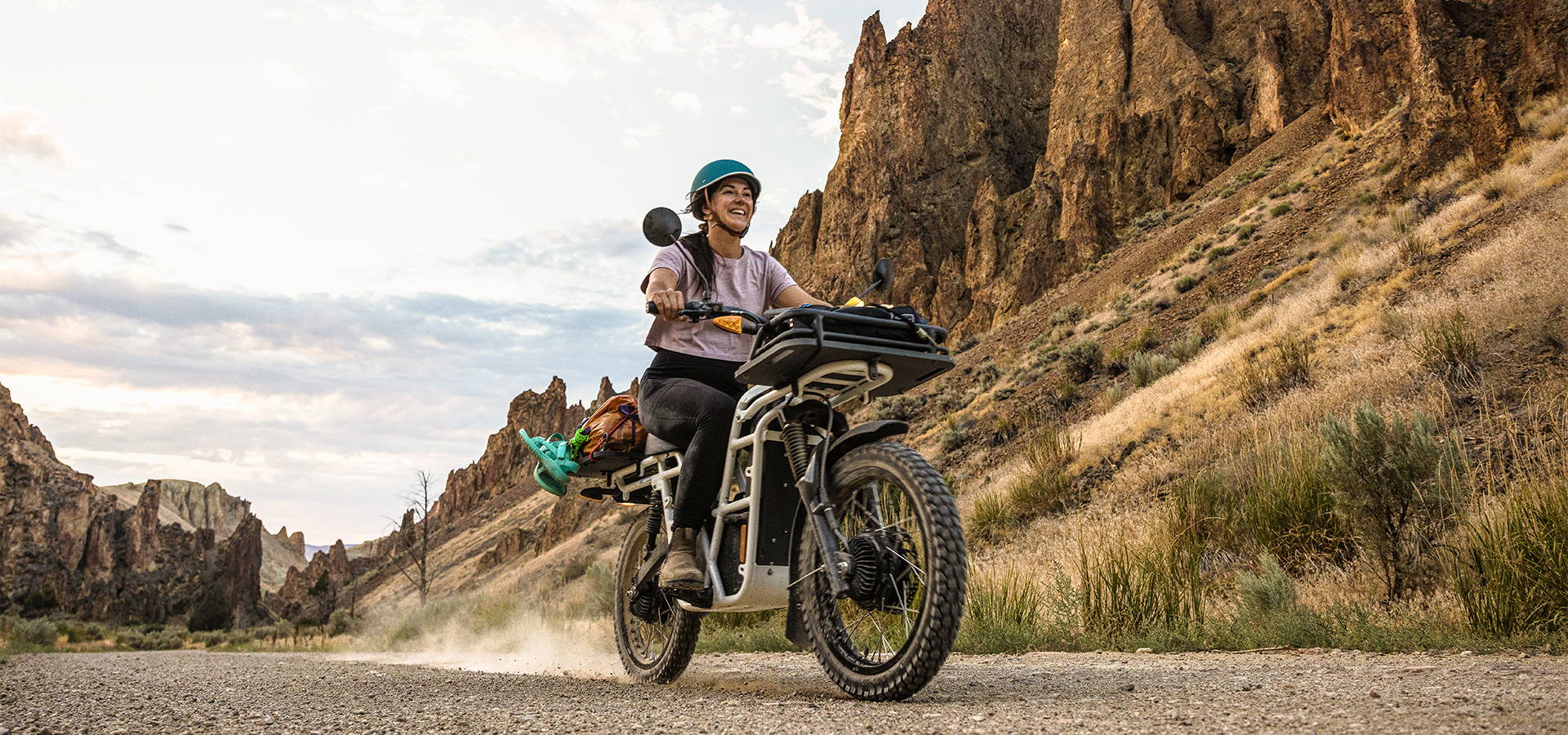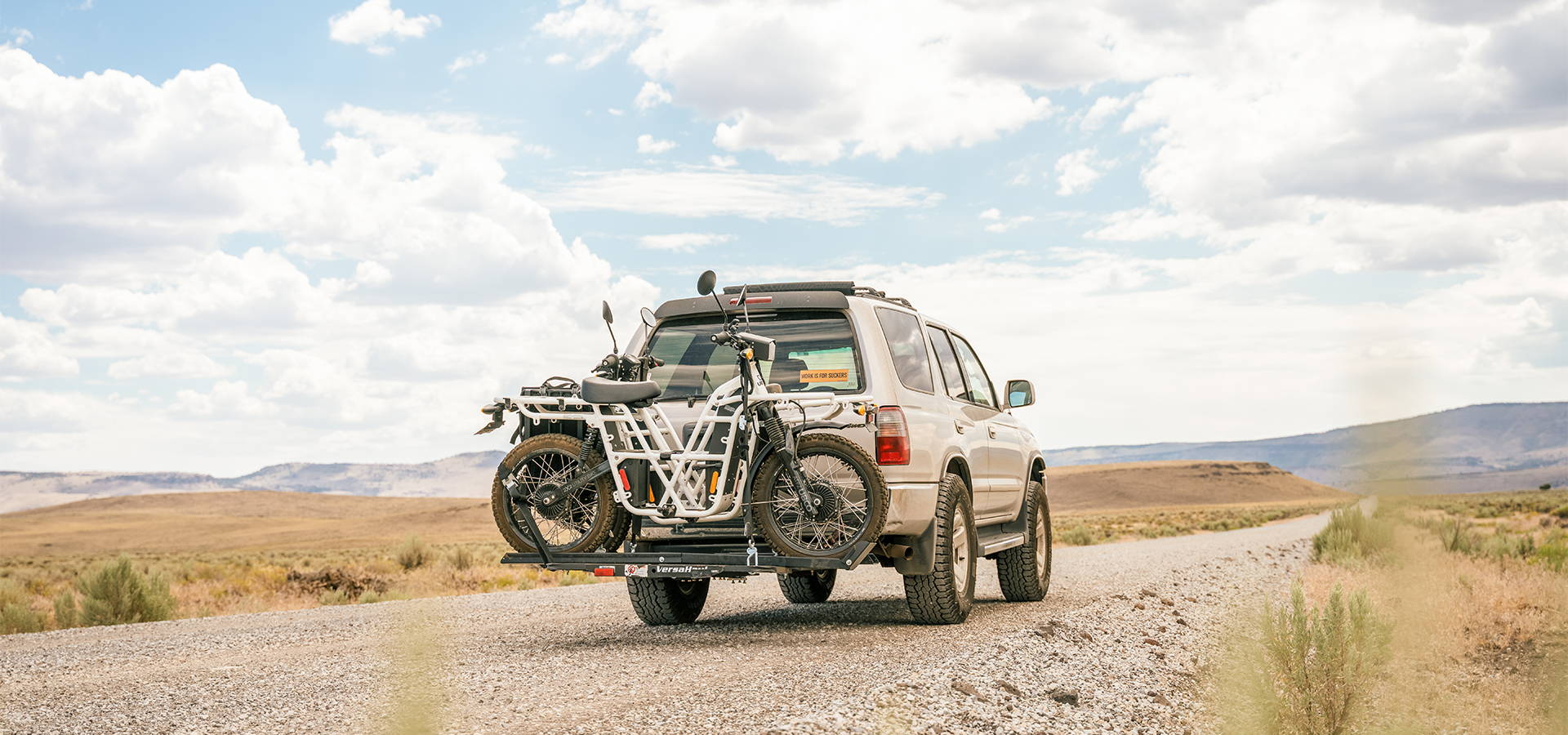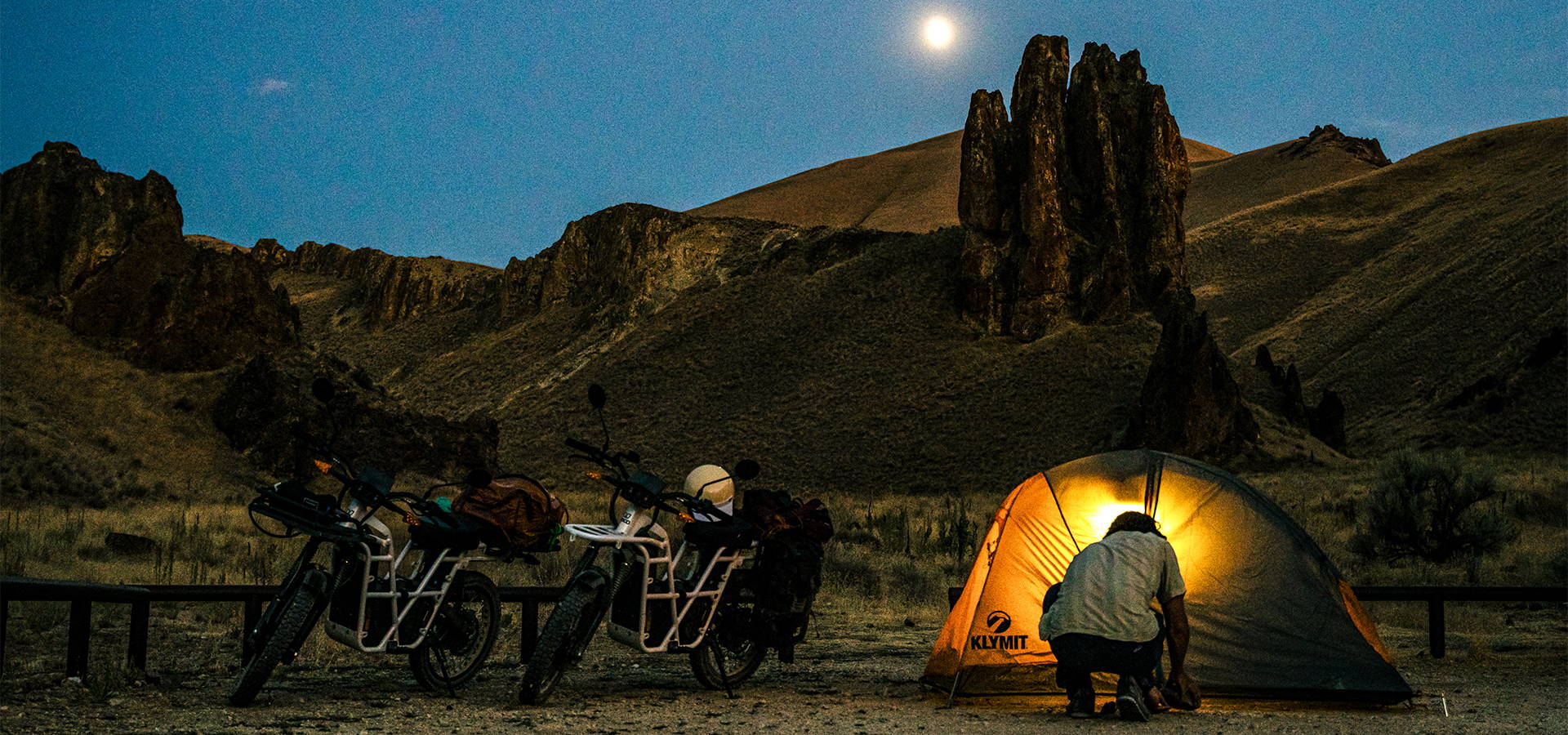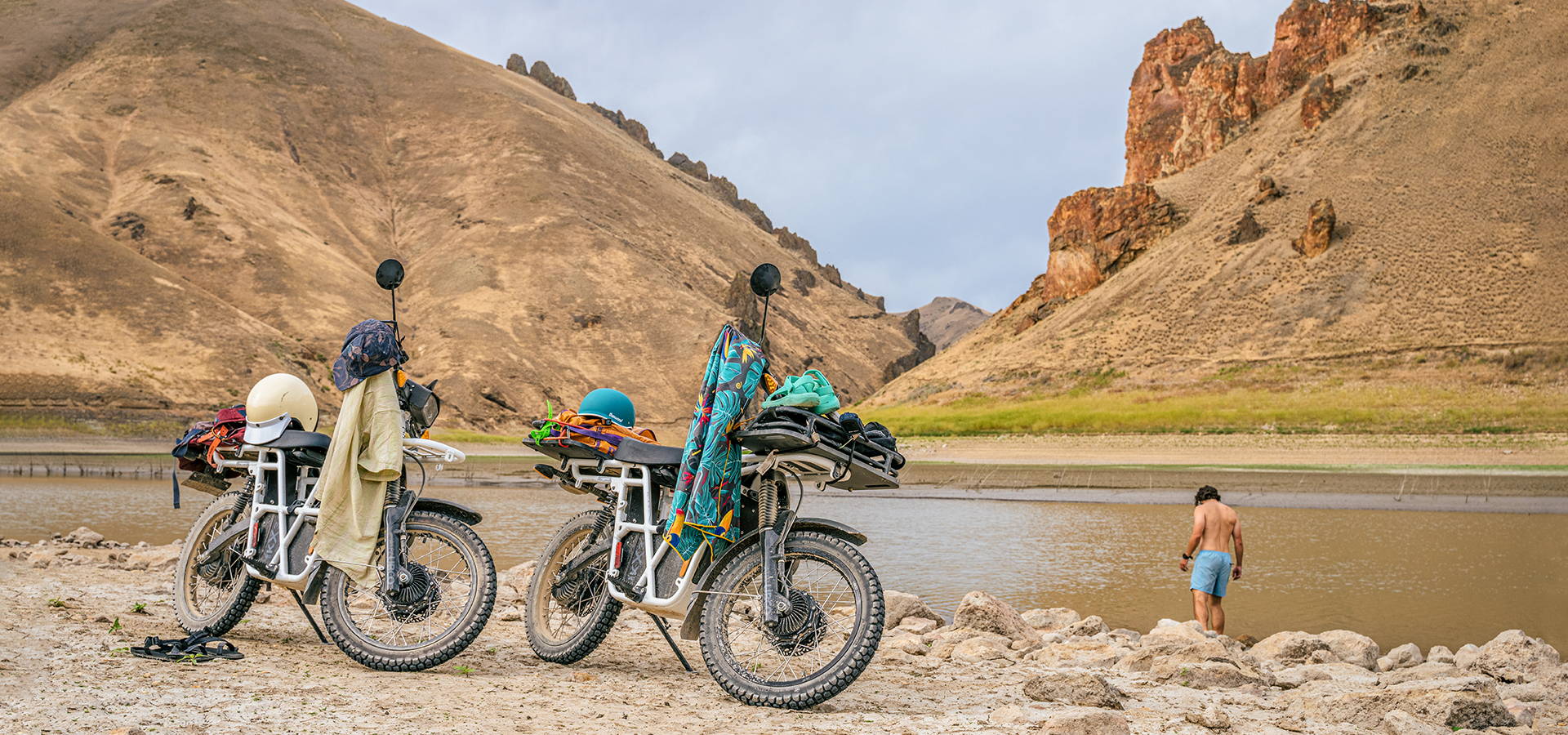 AMBASSADOR BLOG: WHITNEY WHITEHOUSE
The cure to burnout might just be an adventure on an UBCO 2x2 Adventure Bike through the Owyhee Canyon in Eastern Oregon.
Burnout. I'm sure we've all felt it, especially these last few years. As a freelance photographer, the fear of an unknown future makes it easy to say yes to every project that comes my way, and I can find myself working every single day for months on end without even realizing.
I don't want to discredit the importance of hard work. I think a strong work ethic is incredibly important when working towards your dreams; but working all the time lends itself to creative burnout and ultimately leaves you feeling less fulfilled and productive in the long run. It's important to take days off, rejuvenate your mind, switch up the scenery, and challenge yourself to overcome the unexpected hurdles that traveling throws your way.
I was feeling burnt out to the max when I reached out to my friend Matthew Tufts about going off-grid on a bike-packing trip in a remote part of Eastern Oregon. Our destination was a place I'd never been, but always had on my radar. I never made the trip because I never made time for it—the routes I'd driven to other places had never weaved close enough for me to deem it worthy of the extra effort. But feeling the burnout and needing a new kind of adventure, it was time to prioritize the trip I'd been dreaming of for years.
I was ecstatic when Matthew said yes to my spontaneous trip. I've grown to love traveling and adventuring alone, but always prefer to bring a friend along, if I can. It isn't always easy to find someone who's down to travel six hours to a dead-end dirt road to sleep under the stars, but thankfully my friends know each adventure holds more than meets the eye. Each adventure is a chance to discover joy, find yourself, and see beauty in the world. I'm lucky to have a handful of friends who are interested in joining on these whirlwind, rugged adventures with me. Having a friend to share the experience, conversation, and memories with always makes it more enjoyable.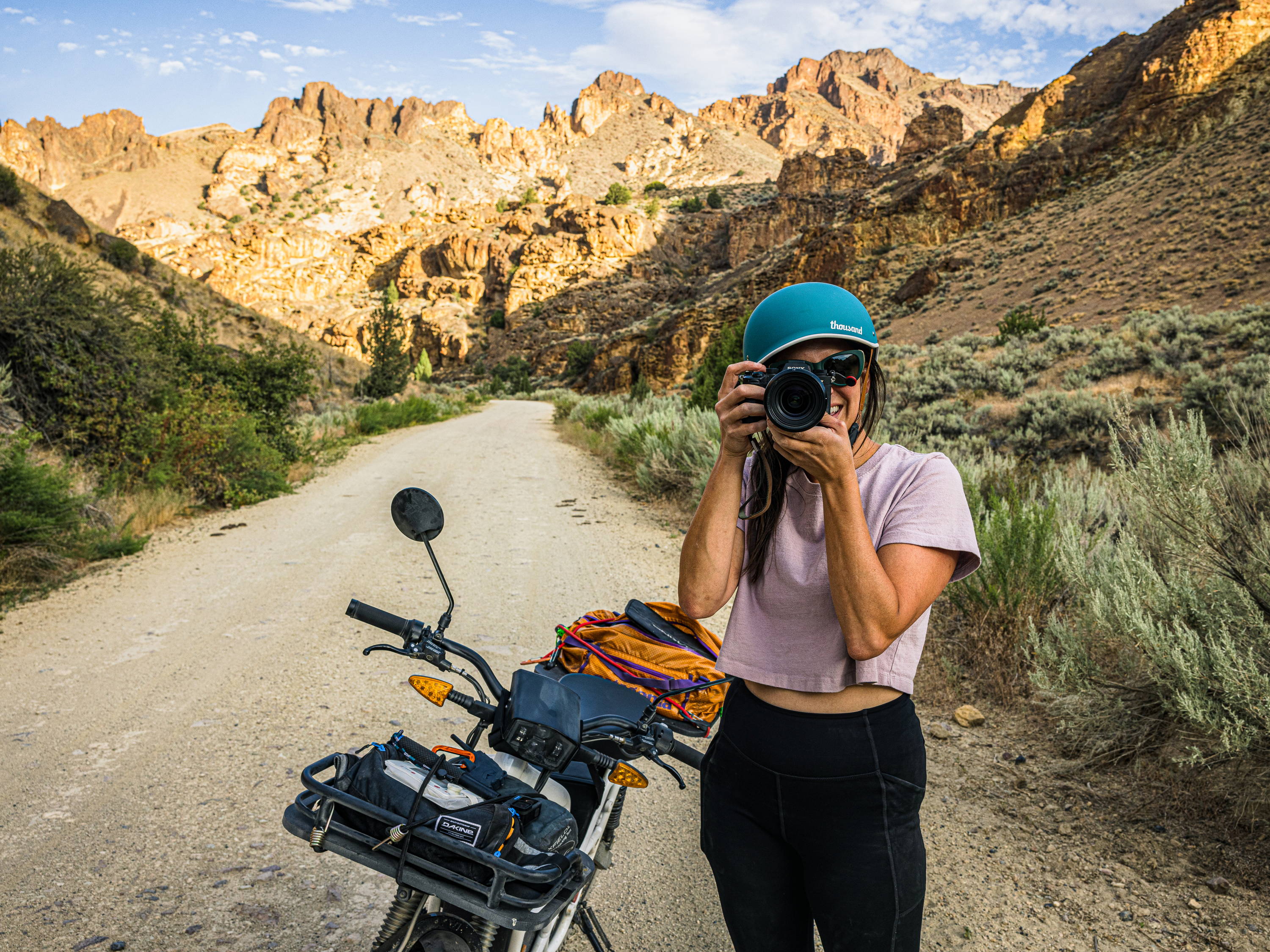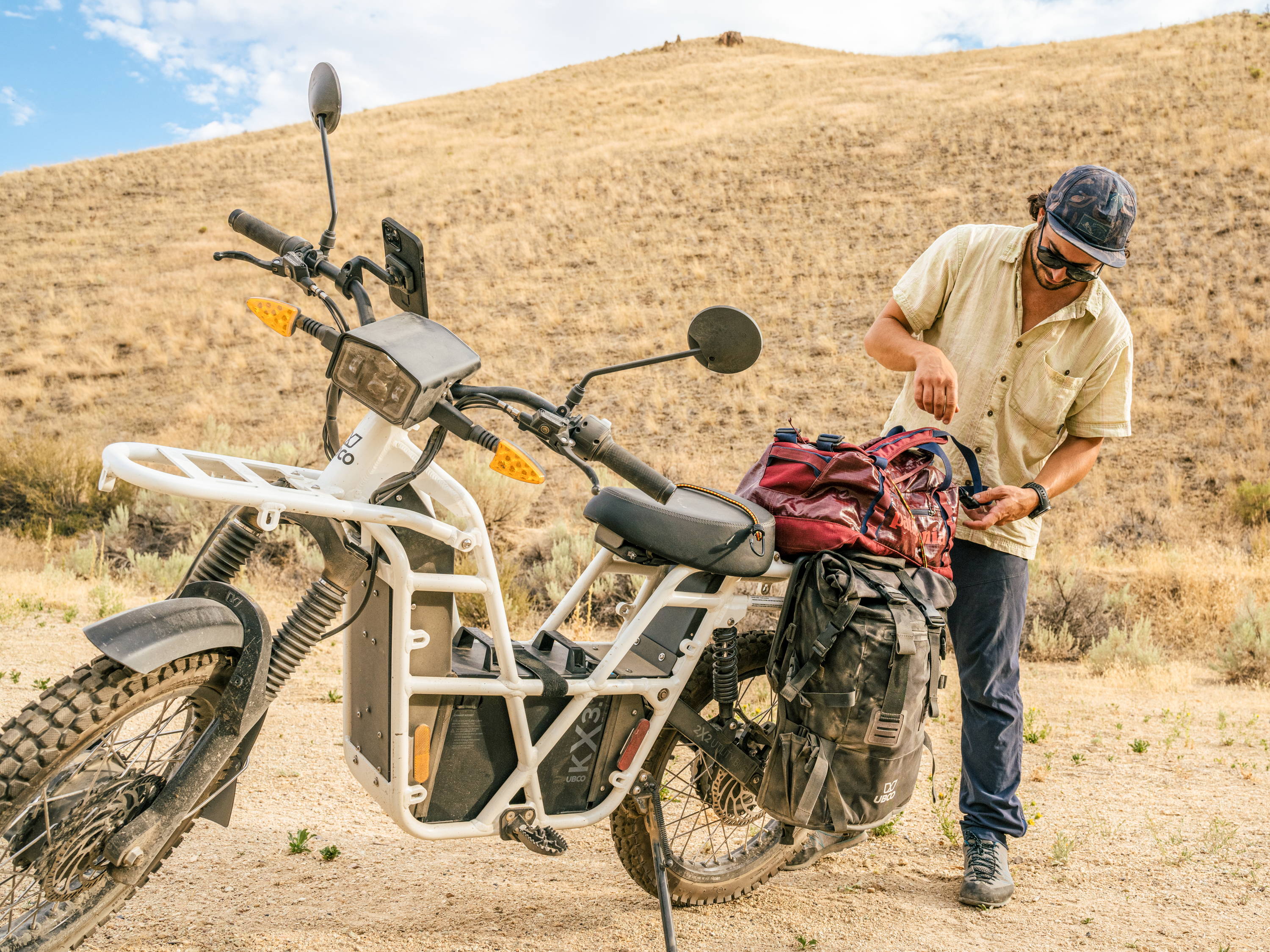 Our original plan was to take the UBCO 2x2 Adventure motorbikes to a remote hot-spring deep in the Owyhee Canyon, but on the day we left, temperatures out east were over 100° F—nothing sounded less inviting than sitting in even hotter water. I knew of a reservoir at the end of an incredibly scenic dirt road that would be perfect to swim in after riding our UBCO electric bikes through the winding, towering cliffs of the canyon, so we made a last second decision to redirect. The spontaneity of a newer, less-thought-out plan already had me excited.
I'm intrinsically drawn to the unknown. I love knowing just enough about a place to navigate and survive, but enjoy leaving most of the details a mystery so that I can discover it with my own eyes. Whenever a friend plans a trip, I try not to look at photos because I want to be in awe when I see it for myself. This adventure felt kind of like that—we didn't have a strict plan and didn't know exactly what we'd see along the way, but we had two fully charged UBCO bikes and a lot of excitement for the adventure ahead.
When I say that we were in a remote part of Eastern Oregon, I mean, super remote. The nearest town to the canyon has a population of 160 people, and the next nearest town on the Oregon side is two hours away. We drove into Jordan Valley and were immediately drawn to Skinner's Rockhouse Coffee. I'd be lying if I didn't mention it was a sign that read "Unforgettable Bathrooms" that made us stop in for some ice cream and to verify their claim; I'd also be lying if I said their bathrooms were unforgettable (they were fine), but their ice cream, burritos, coffee and friendly staff made for a beautifully memorable stop. Supporting small businesses on road trips through rural towns will always be one of my favorite parts of traveling. You learn about the local residents and can support the small-town economy, which is important as a recreating tourist.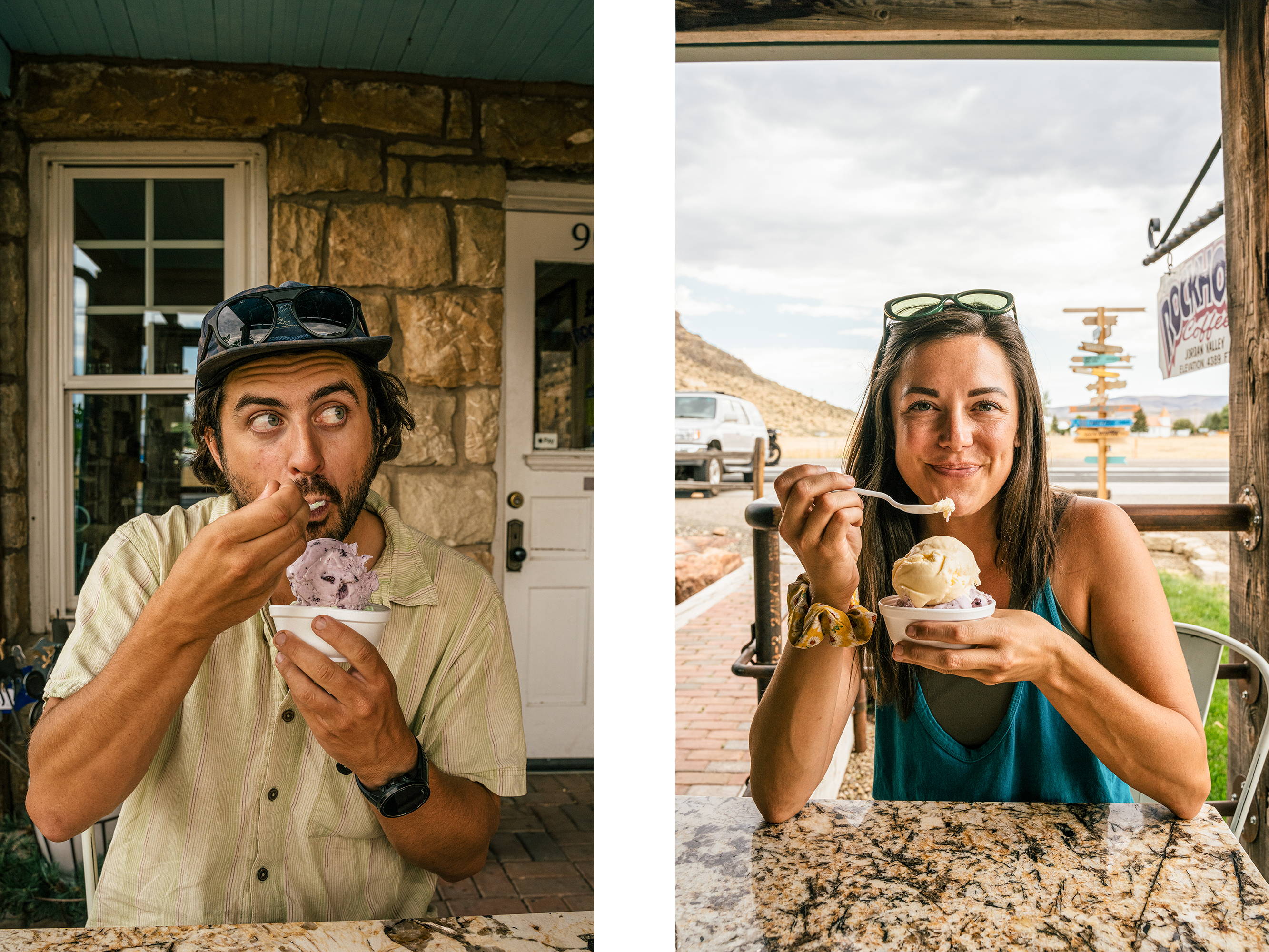 With our bellies full of ice cream, it was time to get to the top of the canyon and unload the UBCO 2x2 Adventure bikes from my 4Runner and get to the real part of the adventure. We planned to ride the 24 miles from the start of the dirt road into the Owyhee Reservoir on the electric motorbikes. The range on a fully charged UBCO bike is about 75 miles, so we knew we could cover the distance with no issue.
Our bikes were loaded up with everything we needed to camp for one night near the reservoir. We used duffel bags to hold the bulk of our camping things and loaded up the other essentials on the front and rear cargo decks, securing our belongings with bungees.
When we hopped on the bikes and hit the dirt road, I felt an immediate sense of relief. We were completely out of cell reception, there wasn't another soul in sight (aside from a few cows, deer, quail, and bunnies), and the wind blowing through my hair seemed to cast away the stress I had felt from work and life. The bikes are incredibly quiet; aside from the gentle rumble of dirt and rocks under the tires, the ride is almost silent. The lack of vehicle noise allowed me to feel closer to nature as I peacefully rode past the aromatic sage brush and towering, ancient red canyons. Each break along the way became an easy way to reconnect with nature. Just lower the kickstand and take a few steps and suddenly you smell the sagebrush, see a lizard, or can watch bats fly overhead in the last light of dusk.
"A puddle presented itself to us at one point in the road—splashing through it made me feel like a kid again. The smile on my face was there to stay for the entire ride, carefree glee overtook my entire being."
– Whitney Whitehouse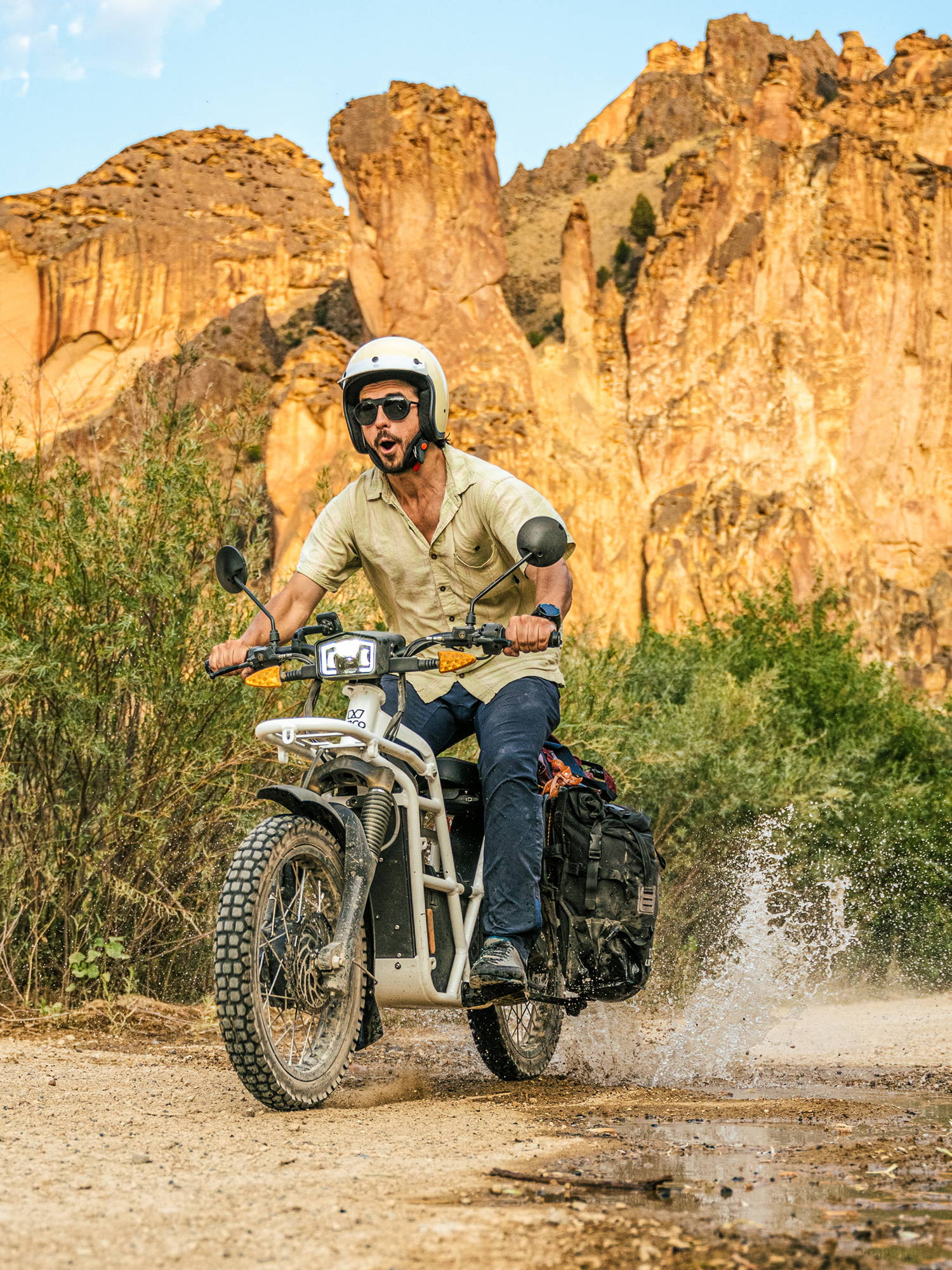 I love the range of vision you have when riding an UBCO. The obstructions melt away and you don't miss a sight as you're effortlessly riding through the scenery. Every smell and every sight is right in front of you and you have a front row ticket to experience it all to its fullest. The wind on your skin and through your hair never gets old, especially in the heat of the day. The max speed of 30 mph is perfect to keep you cool through the heat, but also slow you down enough to where you can appreciate everything greeting your senses along the ride.
When there's no roof over the vehicle you're operating, you can see the jagged tops of the 15 million-year-old, colorful rock formations that tower up to 1,000 feet above you. You can see the nearly full moon rise above the sharp outcroppings. Riding the bike through giant landscapes makes you feel insignificant—not in a melancholy way, but one that makes you feel more alive than feeling like the center of the universe ever could.
The 2x2 Adventure Bikes were made for remote roads like the Owyhee Canyon. All-wheel-drive makes riding up steeps easy, and the bike can gain traction on just about any surface while getting power to the front and rear tire at the same time. The flow of the winding road created the feeling of dancing as I weaved the bike through the curves. A puddle presented itself to us at one point in the road—splashing through it made me feel like a kid again. The smile on my face was there to stay for the entire ride, carefree glee overtook my entire being.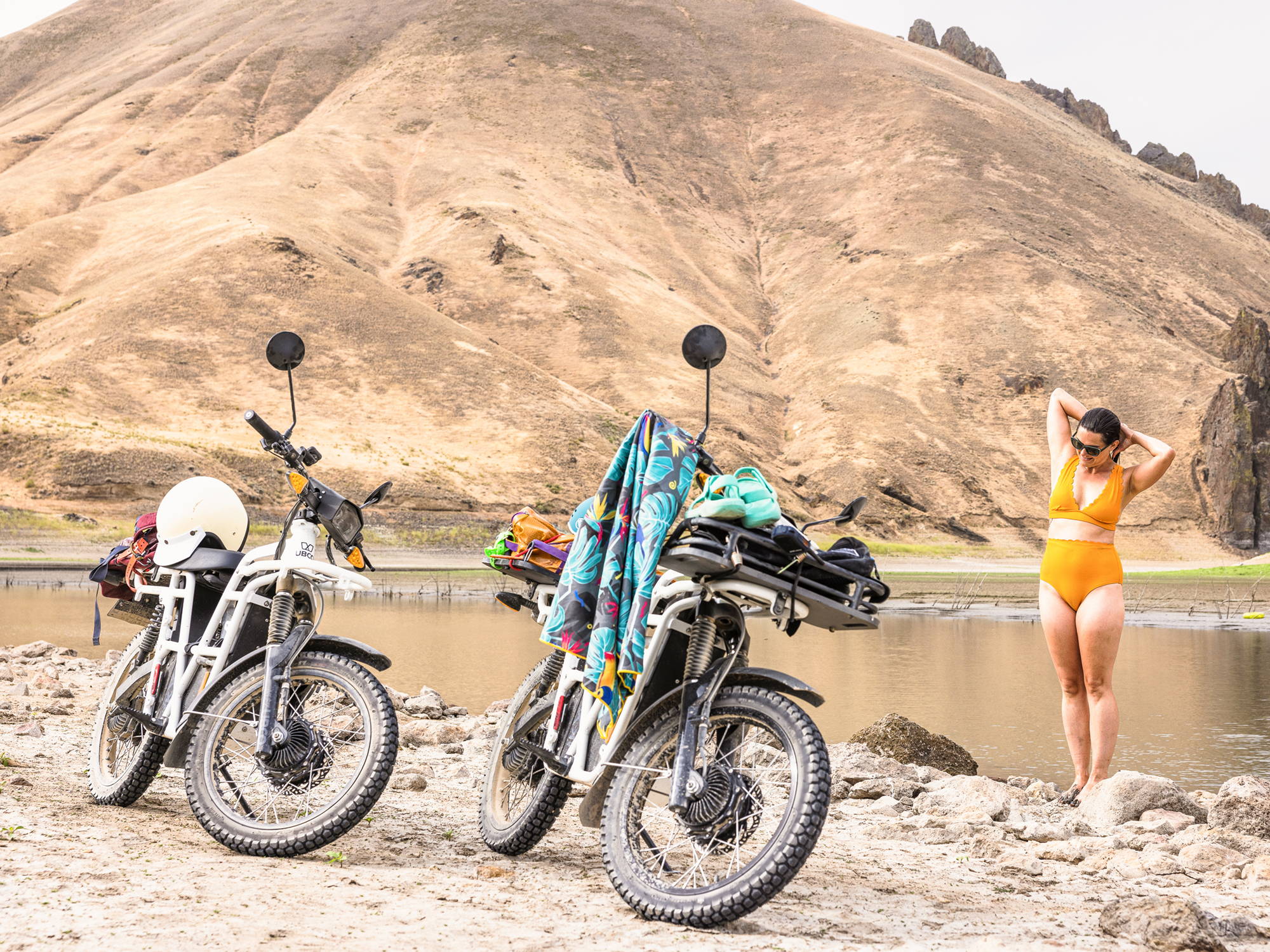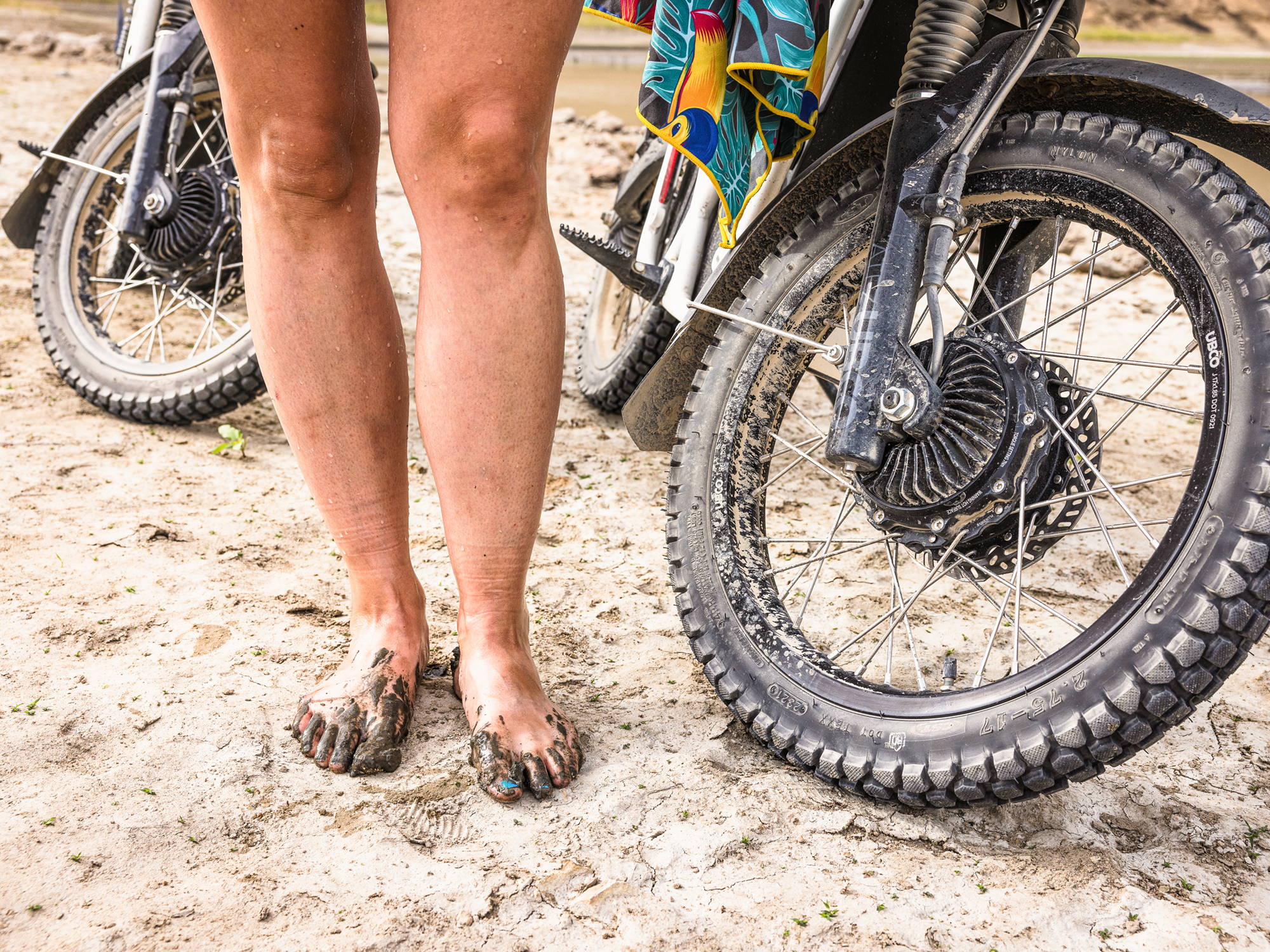 We arrived at the reservoir and took a quick dip before setting up camp. The heat never died down that evening, so we took our sleeping pads & pillows and slept outside of the tent, directly under the moon and the occasional stars that could be seen through an overcast sky. There was a light breeze throughout the night which made sleeping bearable through the warmth of the evening. In the morning when we awoke before sunrise, it was still 83° F.
The in-between moments on this trip filled me with as much joy and rejuvenation as the biking and camping. We had deep conversations about life, friendship, being human, and what it means to exist in this world. Spontaneous trips like this, when shared with a friend, usually lead to a deeper connection with the person you shared it with.
I returned home feeling a new spark of creativity, feeling more alive and reinvigorated than I felt in months. The UBCO 2x2 Adventure Bike was the vessel that made me say yes to a new adventure, that carried me through a stunning canyon in Eastern Oregon and deepened my connection with a close friend. I'm eternally thankful for these moments and hope everyone gets to experience something like this in their lifetime.