TOA Hunter Gatherer
Father, environmentalist, Hunter-Gatherer, and Kaitiaki (Guardian), Owen Boynton is at home in nature and can often be found out on a hunt, helping on the farm, or sharing his passion through his TV show, TOA Hunter Gatherer. Owen established a connection to nature as a child and has been following his passion for the outdoors ever since. In between filming episodes of Toa Hunter Gatherer, Owen spends his time looking after native forest reserves on the East Coast of Aotearoa, New Zealand. 
Owen calls his 2X2 a 'hunters tool'. It's silent and solid. It enables him to access and scout terrain more efficiently than he could on foot. He can carry the gear he needs and does not disturb the areas he travels through or the wildlife around him.  
"One of the things I love about the 2X2 is its ability to silently cover ground. It's like a stealthy companion that's willing to carry your gear for you without a fuss. It also allows me to hunt in environments with minimal disturbance."
Can you tell us a bit about who Owen Boynton is?
I live on the East Coast of Aotearoa, NZ with a marine reserve as my front yard and typical East Coast high country out the back door. I am the Co-Producer of my TV show 'Toa Hunter Gatherer' and in between filming episodes I proudly look after what's left of 3 native forest reserves on a 2500 acre station. I also help keep the station stock proof and in shape. Despite the TV show taking me to some amazing places and allowing me to meet amazing people, I'm usually a lone wolf happily content in the wild.
Can you talk us through an average day in Your life?
My day starts early, before the daylight hits the sky. A few coals on the fire allows me to return it swiftly to a flame. A cuppa tea awakens the senses and it's here that my day begins. The night before I would have mapped out my trapline to check/reset, or a plan of attack for a hunt. I can often be found hunting for goats that roam near to our private native reserves. Before most people have made the journey to work I'd be well underway for the day, stopping each morning to give thanks to the day and the view. My trapline consists of many varieties – other than just simply trapping and hunting I am checking for animal signs such as possum damage to the flora. As well as all that, the station I live and work on is always in need of a hand and if time allows I fill in the odd day fencing, repairing the stockyards, and If I'm really feeling generous I'll even grab the handpiece and trim a bit of wool. My average day is diverse and that doesn't even include the days filming! But that's another day.
Can you tell us a bit about TOA Hunter Gatherer?
Toa Hunter Gatherer – Now many would only know it as the TV show but it goes back a little further than that. For years I have been intrigued by all things hunting and gathering and I found happiness in understanding that our role as hunters was much more than just hunting. We hold skills that have the ability to not only provide for our families but for our communities in good will. I had found many people in my community, especially our pensioners, hugely appreciated the extra food on occasion and from that a new purpose to extend the gift of food from the hills to the community began. I was also intrigued by the ancient crafts and methods of catching food from all cultures and would study them and duplicate them as best I could. One day I had an informal chat with a TV Producer who could see something I hadn't and one year later our first series of Toa Hunter Gatherer aired. It amazes me how when you exude what you are passionate about the world has a funny way of tapping you on the shoulder.
What does it mean to be a 'hunter-gatherer'?
In my mind being a Hunter-Gatherer is another level from just being a hunter. A hunter-gatherer knows their way and understands their connection to the earth and how it provides for us. It's the intricate details of the natural world that if learned allow you to hunt in tune and gather in abundance, while also knowing when to help things grow. This full-circle mindset is what enables us to care for our environment and know how to keep a balance so that we can sustain ourselves and the natural world at the same time.
Have you always had a passion for hunting? How did you discover this passion?
I have been drawn to the wild from a very young age. I would watch my father intently as he would study the footprints of a deer, deciphering its weight, age and direction of travel. I would listen to the old hunters around a fire talk of hunting tales many moons ago and be inspired to one day be able to do the same. Well, that drive never went away, in fact it gets worse every year! But I'll never forget the words of my father while sitting around that fire "To be a hunter is within you." I suppose that sparked my journey of discovery and 30 odd years later here we are.
What are the three essentials that you take on every hunt?
Water, a knife, and string.
What does sustainable hunting mean to you?
I think it's important that hunters understand what it means to be sustainable. To me sustainable hunting is all about knowing your environment before you harvest. In terms of our Kaimoana or Seafood if we take without actually knowing the stocks of the ecosystem we are taking from then we risk not having that food supply forever more. It's about being mindful and knowing to take only what the natural world can replace comfortably.
You live in a very beautiful part of New Zealand, can you tell us a little about that and why you put your roots down there?
I live in one of the most beautiful places in Aotearoa, North of Gisborne on the East Coast. It's here that I call home. One of my greatest memories as a child was the carefree feeling of being able to explore without boundaries on this exact coastline. Running barefoot over the sand dunes to the reef, exploring the hills and coming home after a long hot summers day before slowly falling asleep in a hammock listening to the sea. Happiness was simple back then. I have returned here as a father with my own little family and as my two daughters are growing quickly in this fast paced world, I wanted to gift them the goodness of wholesome simplicity. This place offers all that and the view is just good for the soul!
You have a strong appreciation for the natural environment, can you tell us about that and what drives it?
I think what I appreciate most about the natural world is that it ultimately provides for us all. It gives us what we need to be sheltered, nourished, and live. My desire to be within it as much as possible is driven by my will to protect what's left of it. I picture the earth as a "Mother" who nurtures us and it's only right that we care and appreciate her.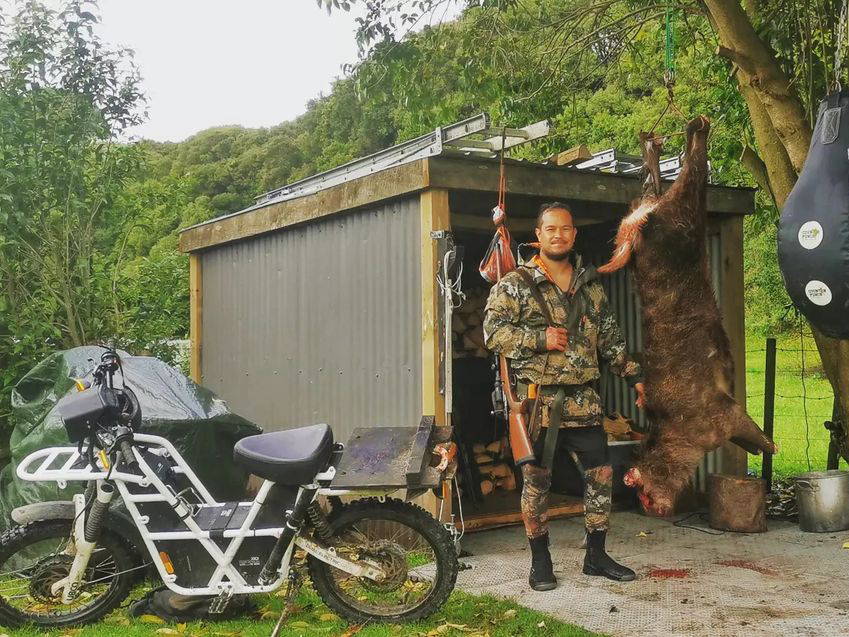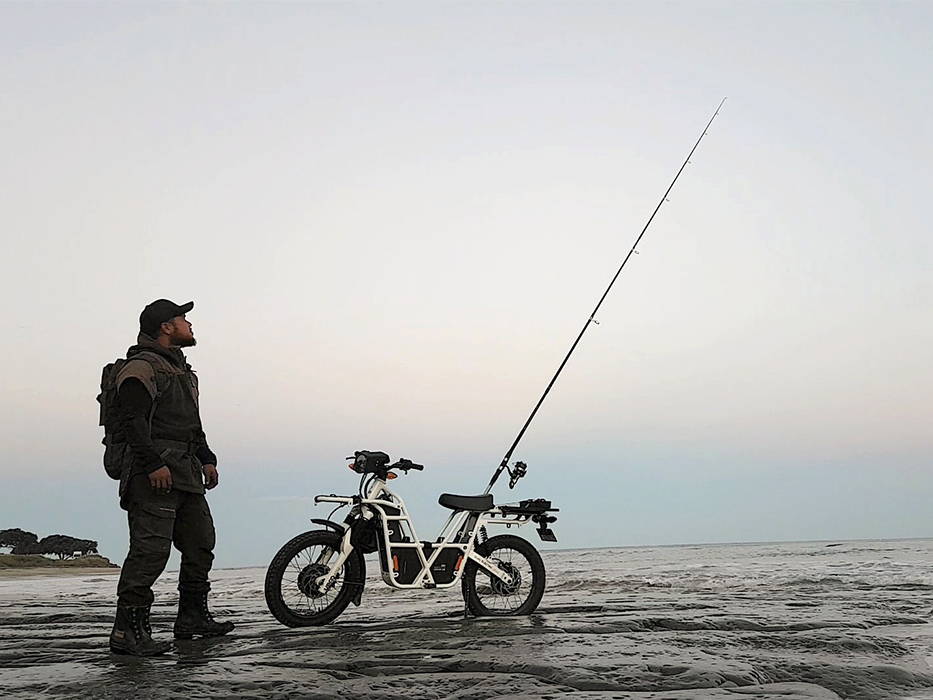 What do you do when you aren't out hunting?
When my hunting boots are wet and drying upside in the shed I'm basically just a Dad. I spend a lot of time in the hills, sometimes with my kids, but when I've fulfilled the 'bread on the table' role I'm happily chipping away keeping the firewood stockpile ahead of the seasons, crafting bows, and keeping wifey happy.
What do you believe you were you put on the earth to do?
I think my calling on this earth is to be a kaitiaki -- caretaker of the natural world and teacher in the same domain. It's almost a responsibility to pass on this knowledge.
What haven't you accomplished that you aspire to do in your lifetime?
Looking ahead I hope to create a space for like-minded people to use to be able to continue teaching conservation, and hunting and gathering so that there are always mentors that continue to inspire the next generations. One day I will pass on the torch to the next Toa (warrior).
What advice would you give to someone starting out in hunting?
My advice to anyone starting out in hunting is learn everything you can about the species you want to hunt. Learn their habits and movements. Learn the environment and landscape you will be hunting in and study it. Apply the habits of your intended species to the geography of the land. The more you know about an area the more you understand how to hunt it and in turn it will make you an efficient hunter. Above all be safe out there, know your limits and be prepared. "Be safe, be seen". And if you need more help watch Toa Hunter Gatherer!