If exploring the different corners of the world and escaping the everyday hustle and bustle sounds like a bit of you, then an EarthCruiser might be just what you need.

Founded in Australia, with their headquarters now in the US, EarthCruiser produces 4WD all-terrain 'motorhomes'. However, don't be fooled – these aren't your typical motorhomes. The completely self-contained units have everything you need to camp in a small village in Thailand, or on the coast of South Africa. Home to an advanced water purification system, with solar panels attached to the roof, there is no need for a generator or RV plugin power connection. It's everything in one – meaning nothing can get in the way of your adventure.
EarthCruiser in Oregon recently signed on to become an Ubco Dealer, so we caught up with their CEO, Lance Gillies, to find out more about this impressive piece of machinery.
"My wife and I started EarthCruiser for one simple reason – we love to travel" explains Lance.
"A lot of people understand how to make something, but not everyone understands why they're making it. That's where we are different – through our love of travel, and passion for adventure, we understand why we're doing it. We know what it's like to be in the middle of Mongolia, the coast of Australia, or to travel around the beautiful New Zealand, and in turn, understand the need for a completely self-contained unit that facilitates global adventure."
"The EarthCruiser isn't about having a big, bad truck, the newest shiny toy, or the latest RV with a nice shower and the best air conditioning unit. It's about living to the fullest, with the choice to go wherever you want, for however long you want. Mainstream is not for everyone. There is a significant part of the population out there that wants to go further, and we can make that happen."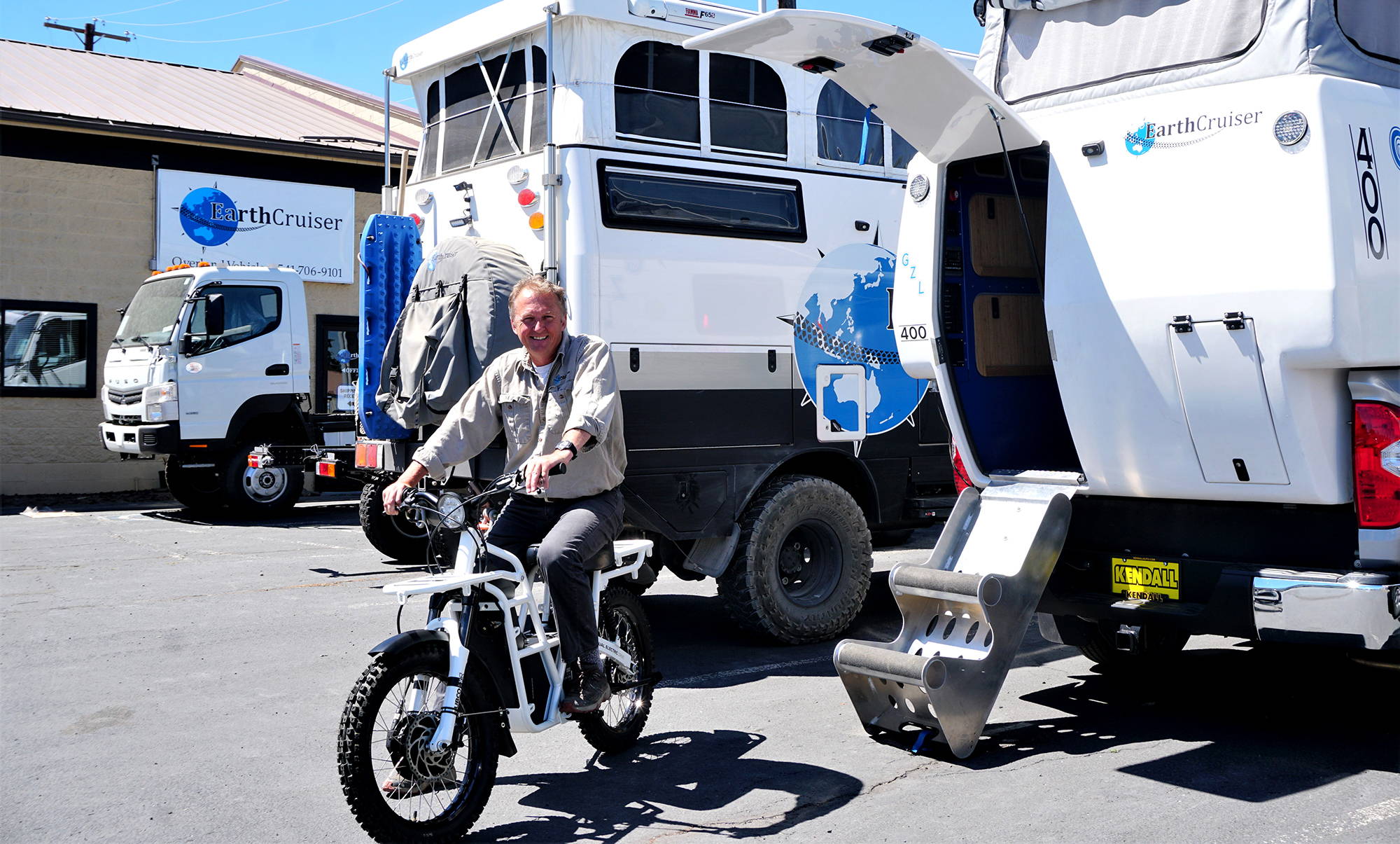 One of the many unique features of the EarthCruiser is that they fit perfectly into a shipping container – making global adventure a reality. "Our customers can go from one continent to the other, then the next, and so on. It can be quite exotic, but also economical." The EarthCruiser combines transport and accommodation all in one globe-trotting package.
EarthCruiser was looking for a single fuel bike to partner with their vehicles, so teaming up with Ubco made perfect sense for Lance.
"A partnership with Ubco makes sense for us, as the two companies align perfectly. It's not your typical RV, and it's not your typical motorbike, yet they both share one very important feature – all-terrain functionality."
The fully electric design of the Ubco 2×2 also appealed to Lance and the EarthCruiser team.
"The EarthCruiser only runs on diesel and solar, and we don't have generators, so we didn't want to have a third fuel. We'd been considering electric motorbikes, and had been following Ubco for years, watching the company grow and go international, so it was great when they landed in the US. The two companies have a similar mind set, with simple designs that go every time, and break the mould. We love that the bikes are lightweight and manoeuvrable, and are designed to work as a utility bike. It truly was a no-brainer."
EarthCruiser are currently in the process of designing a bike rack for the back of their vehicles that will take two bikes.
"Transporting these bikes with the EarthCruiser is key for us. If you're outside some little village in Malaysia, you can jump on the bike and go and get some groceries. it's absolutely perfect."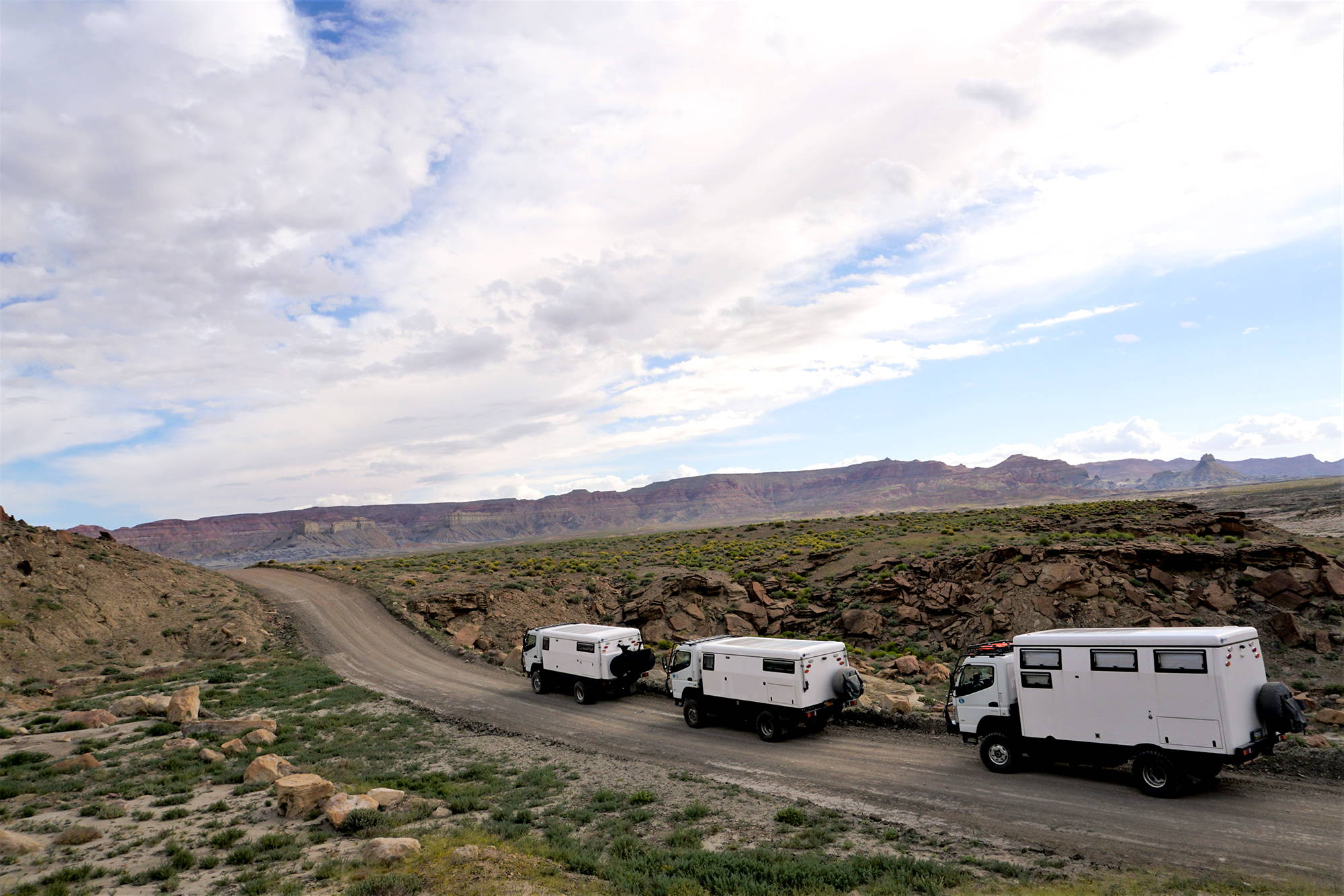 They're also planning the ultimate adventure in January next year, and taking the Ubco 2×2 along for the ride. Starting in Budapest, Hungry, and ending on the West Coast of Africa, it will take about 6 weeks, covering thousands of miles, with a variety of different terrains and conditions.
"The EarthCruiser is for anyone who loves life", explains Lance. "We have customers in their 20's and 70's, all with one common trait – a passion for travel and adventure."
Although EarthCruiser only started with one model, the EXP, they have now grown to include 2 other models, the FX, and the GZL, which attaches to the back of a Ute. We're sure there will be more to come too!
It's about just living life for EarthCruiser, and adventure is at the core of that.
"EarthCruiser represents autonomy from the confines of the pavement. Whatever you would need to be completely unhinged from the rest of the world. That's us."
A big thanks to Lance and EarthCruiser for your time. Images are supplied by EarthCruiser.