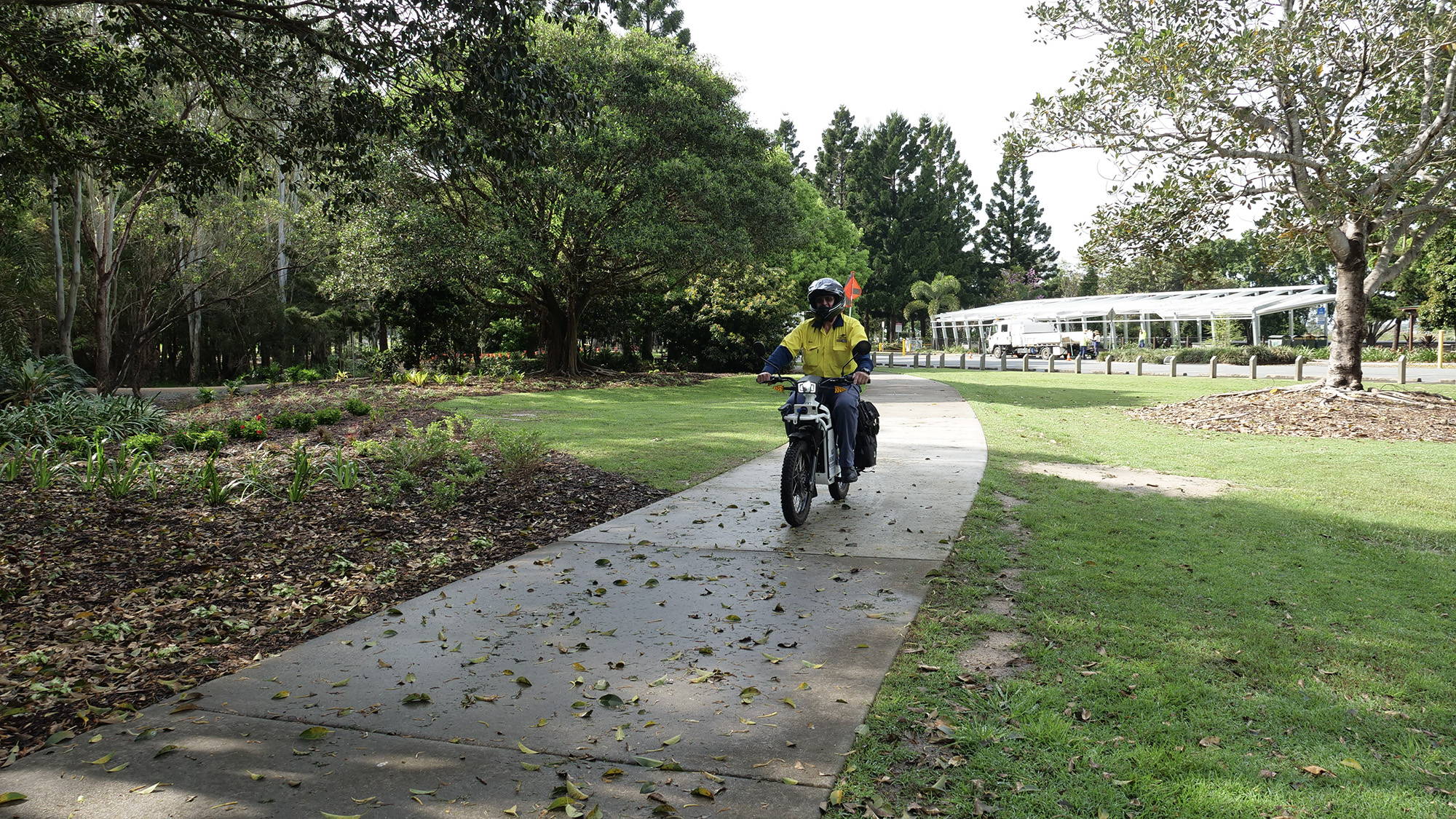 Case Study: MORETON BAY COUNCIL
Moreton Bay Council has dramatically streamlined the resource-intensive work of pavement inspections by using a combination of UBCO bikes and AI, leveraging smart, green technology to carry out this essential work faster and reduce labour by 75 percent.  
Not too long ago, Moreton Bay Council would send four people out on scooters, twice a year, to inspect the 2,000km of footpath that criss-cross the recently amalgamated and fast-growing city located just north of Brisbane, Australia. 
However, a radical change took place when the council upgraded its technology, moving away from manually inputting data through a tablet, to using a camera that automatically captured any issues with the pavement. Applying a little AI and machine learning meant that the inspectors didn't have to physically stop to record every issue.  
This significantly sped up the bi-annual process and reduced the labour force to one inspector. However, he needed a mode of transport that would enable him to navigate the city more efficiently than the existing scooters or a e-bicycle, particularly its many steep sections, which were physically hard work for just one person to tackle. 
The team began trialling their options, eventually landing on UBCO after taking a test drive at a local dealership.  
"It ticked a lot of boxes for us," says Ben Wallace, the Council's team leader of assets, systems and innovation. "The inspector drives it to a location on a rack on the back of his ute, then takes it off to follow the footpaths — but then he can ride it back to the car on the suburban road network, rather than having to retrace the footpaths back."  
Another major point of difference for the inspector is its ergonomic features like the low step-through and panniers, which make it easy to use as a work vehicle. "Sarge, our inspector, also particularly loves the seat — he says it's really comfy, which is important if you're out there all day," says Wallace.  
The shift that began when the Council adopted a high-tech system has now completely streamlined essential work that used to be time-consuming and resource-intensive and allows the organisation to carry it out using a non-fossil-fuelled device — a move that has been widely applauded by the residents of Moreton Bay.  
"I know the videos show UBCO bikes traversing snow-covered peaks and whatnot, so we're not exactly putting it through its paces as an off-road vehicle — we're riding on concrete footpaths," laughs Wallace. "But it's such a robust piece of kit it's perfect for commercial use."