SPONSORED CONTENT BY MERCURY
Mercury are on the lookout for New Zealand e-revolutionaries - electric heroes, championing e-transport and inspiring other Kiwis to Join the Electric Revolution.
When it comes to e-biking and protecting the planet, you could say Dylan Hughes is fully invested. He's director of sales and marketing at UBCO, a Kiwi company that in 2014 spotted a gap in the market for a 2-wheel drive electric, lightweight utility vehicle. The raw prototype created a massive stir at the largest agricultural tradeshow in the Southern hemisphere, the National Agricultural Fieldays, and it then became UBCO's flagship 2x2 bike.
Fast forward to today, and you'll find Hughes silently whizzing by on the company's latest model. Not because he is an employee of UBCO, but because he's a big fan. "No queues at petrol stations, no C02 emissions, no fighting for a carpark, no noise pollution, no oil leaks on the garage floor, and no one can say, I don't look cool whilst trying to save the planet."
In 2005, when Hughes decided to move to the Mount for the laidback lifestyle, there was an obvious transport choice, it just so happened to become his job too. As he explains, "Because pretty much everything you need is within a 5 kilometre radius, it was beach cruiser bikes and skateboards as modes of transport, but now that the Mount has become New Zealand's worst kept secret for living and holidaying, you need something small and economical to use to get around and an electric 2x2 was the perfect choice."
Hughes studied Environmental Planning at university, so reducing the impact on the planet has always been close to his heart. For him, an EV is an ethical choice just as much as a financial one. "By choosing electric as my primary transport mode over fossil fuels I do feel like I'm part of the solution rather than a part of the problem. Of course, it's also nice having more money in my back pocket to take the wife out for dinner more often."
It's an understatement to say that Hughes' e-bike has become his go-to, whether it's riding to UBCO headquarters, going to the gym, the supermarket, the hardware store, or even hitting the beach. "I have pannier bags for groceries, a surfboard rack when I want to surf and I prefer to use my UBCO when I want to go for a walk up Mauao because parking is not a problem for me."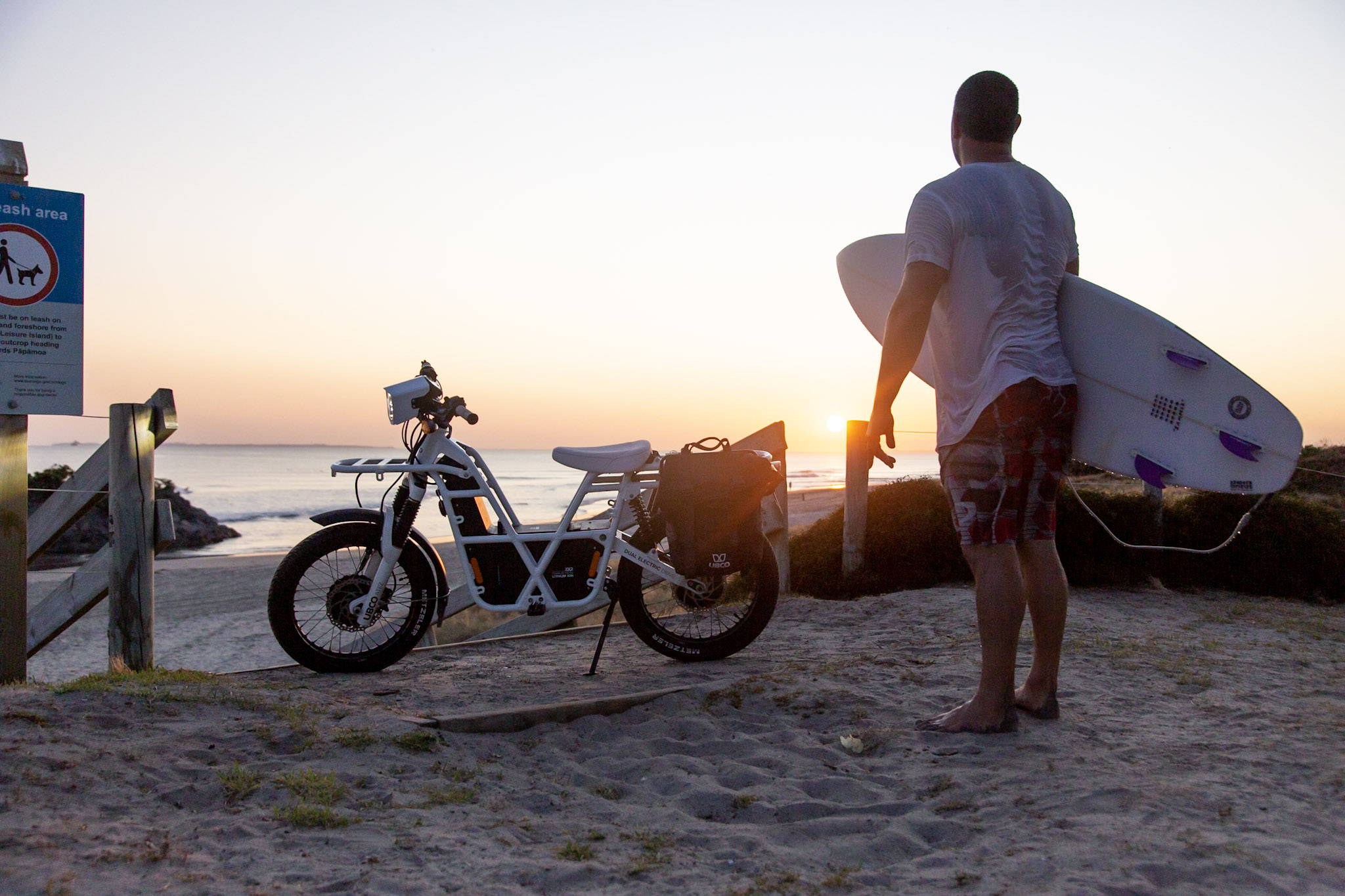 Beyond the convenience, enjoyment and zero carbon emissions, Hughes also points out the low maintenance costs. "Costs are kept down compared to a regular motor scooter, because there is no oil, spark plugs and all the other messy parts…and that means less downtime in the workshop. The UBCO 2x2 is basically an iPad on two wheels."
That's a pretty good description from this director of sales and marketing, but what about the finer points, like charging? What are the realities there? "I have a charger at home and also one at work (should I ever need it), but I basically charge once a week at home. I do not wait until the battery is fully flat but rather top up charge as needed. I've been told to help prolong the battery life, that Li-Ion batteries perform best between 20-80 per cent capacity."
Since joining the Electric Revolution, Hughes has also worked out that in the first year alone, he has saved over $450 dollars, and reduced his emissions by about 80 per cent. He's got plenty of good things to say about the benefits of his bike, but when we asked him for one final message to Kiwis out there, he left us with this, "Try it, the hype about electric transportation is real. There are many brands out there, and I assure you there is one that will fit your needs and wants." Mercury agrees. There has never been a better time to get on your bikes, Kiss Oil Goodbye and Join the Electric Revolution.