"Don't you shake your head at me!" yelled the Postie who had just blatantly cut me off on a narrow road in her truck for the second time that morning. Such was my first encounter with a local on Great Barrier Island. But I'd soon discover this aggression was the exception, not the rule, on this little slice of island paradise. And besides, with around 800-900 residents, I was bound to run into her again. So I decided to kill her with kindness and wave with a smile each time I did.
Aotea/Great Barrier Island lies about 100kms north-east of Auckland but feels a world away from the hustle and bustle of the region it is technically a part of. For years I had heard stories about its pristine beaches, quiet trails, clear night skies and a little Irish bar owned by an actual Irish proprietor. So over a weekend in autumn I packed up my 2×2 and a prototype travel-trailer with my camping gear, food, camera and a spare battery and drove it down to Auckland's Wynyard docks where I would catch the vehicle ferry across the Hauraki Gulf. Waiting in line to board the ferry, I answered loads of questions about the bike and even stepped off it so some tourists from Thailand could get their picture taken sitting on it. For an island that existed off the grid, the UBCO 2×2 became an instant point of interest and awe.
The four and a half hour ferry ride across the gulf is a spectacular journey in itself and seemed a fitting way start to an adventure that had no specific plan in place. Everything was new and everything was unknown. Without cell reception and only simple maps printed off my computer, I'd spend the next few days on my UBCO 2×2, following my nose and relying on friendly locals to point me in the right direction. I just needed to decide on a direction first.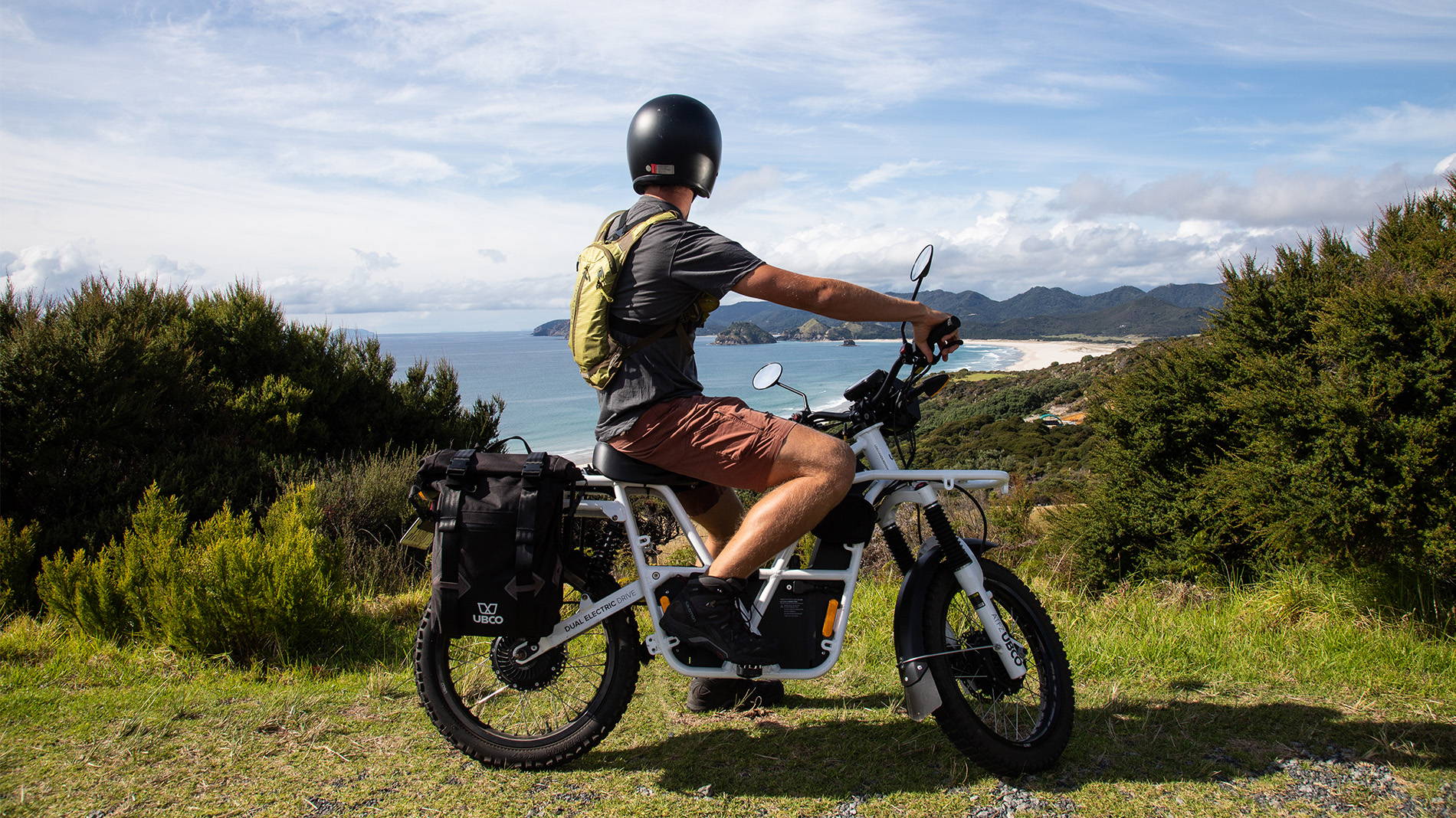 Landing in the southern village of Tryphena with my bike loaded up with all the gear I'd need (hopefully), I began heading north towards Medlands, where I had heard about a quiet campsite and a beautiful surf beach. As I weaved along the coast the road quickly narrowed, soon to be enveloped by green, winding its way through a fern-clad jungle and up over a mountain pass. Thanks to the UBCO's 2-wheel drive power I made it to the top and was treated with sweeping views across the island. The sheer size of its interior suddenly struck me. What secrets did it hold?
Arriving at Medlands Beach late in the afternoon, the first order of business was to set up camp and de-rig the bike. Having packed two saddlebags to the brim and towing a trailer, I was surprised at how little difference the additional weight had made. I hadn't test driven the 2×2 with the trailer beforehand and was uncertain how it would respond, but having the security of a spare battery on an island without a mains power supply to recharge from made it seem like a worthwhile gamble to take.
With camp set up it was time to start exploring, and I was itching to get off-road. Great Barrier Island is full of hidden nooks and crannies, and the 2×2 was right at home exploring them all. That evening I pulled off on the side of a high bank with an expansive view back over the beach below as the sun began to set, casting a golden light across the dense mountains in the distance.
The next morning I awoke early and decided to continue heading north, passing through the unofficial capital of Claris and aiming for the island's forested interior. With its few shops, medical clinic and airport, Claris is the sort of place where if you blinked you might miss it. And that's part of its charm too; no frills, no touristy tat, and nothing happening in a hurry. It's in Claris that I met Elise and Chris, a couple of locals who generously offered to recharge one of my batteries off their extremely cool home solar set up. Living off the grid, they were curious to see how their set up handled charging the 2×2's batteries since they were considering replacing their petrol car with an UBCO.
After switching out my batteries and leaving the sun to do its energy transfer magic I pointed the bike into the direction of the mountains and sometime later found myself at the start of the Aotea Track. I parked the bike along the road, hid my helmet in the bush and set off. This multi-day loop takes trampers through beautiful protected wetlands, to the top of Mt Hobson, the Barriers highest point, and most importantly to some sacred natural hot pools set far back into the bush. Serviced by two huts along the way, the circuit can easily be enjoyed in a long weekend and at Mt. Heale Hut visitors are rewarded by their vertical effort with some of the clearest night skies anywhere in the world.
The next day returning through Claris I picked my fully recharged battery up from Elise and Chris and set off for one last adventure ride before I returned to pack up camp and begin the journey back to catch my return ferry home. Along the way I reflected on this impromptu trip, the ground I had covered on the 2×2 and the beauty I had seen in such a short period of time. I gave that crotchety Postie one last smile and wave (the 3rd of the trip) and decided since it was on the way, I'd better go and inspect that Irish Bar I had been told about. Because what concludes a weekend in island paradise more than a warm Guinness?