We're excited to introduce our new "System 2" braking system, an UBCO-designed upgrade inspired by motorcycle technology. Utilising regenerative braking, System 2 offers a more powerful and reliable braking experience for our riders with enhanced stopping power and greater pad longevity.
The 2023 2X2 Special Edition comes equipped with the System 2 brakes as standard. And starting from June 1st, you'll have the opportunity to select this advanced braking system on all new 2X2 Adventure Bikes, ensuring superior performance no matter where adventure takes you.
So, what sets the System 2 apart?
This innovative braking system features an upgraded brake caliper and is equipped as standard with sintered brake pads to maximise lifespan. The ergonomic lever design has been optimised for both one and two finger braking techniques, providing superior rider control.
To deliver a perfect blend of superior brake modulation and high-powered stopping, we've  redesigned the brake master cylinders. For better heat dispersion, larger 240mm steel rotors are fitted to both the front and rear of the bike. To accommodate these advancements, the suspension fork, swing arm, and rear console have been updated, leading to a robust system that's built to last.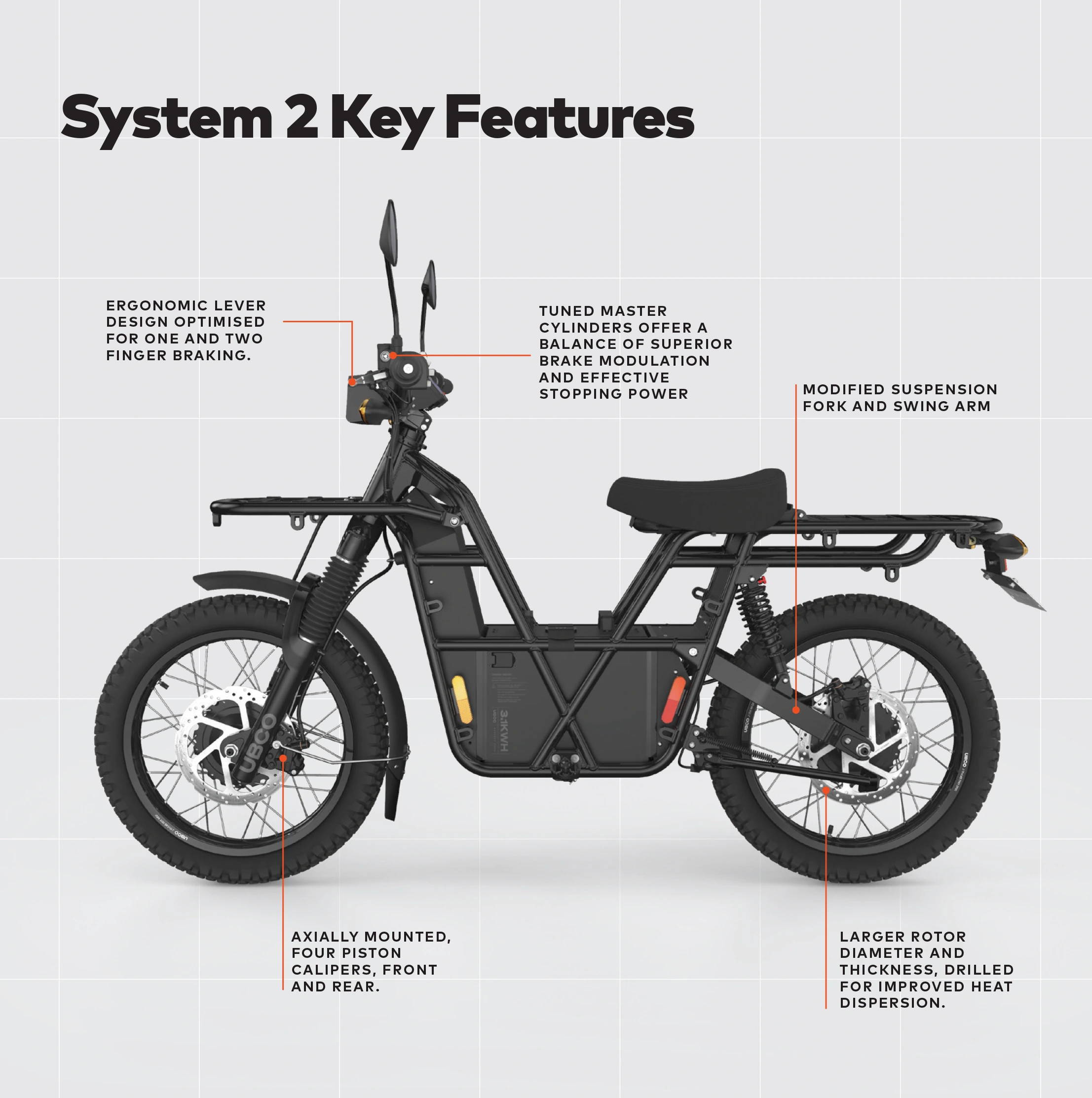 Does this mean our standard SR brakes fall short?
Absolutely not. Our standard SR brake system continues to deliver a reliable performance. Although it isn't as heavy-duty as System 2, it still comes with the added advantage of regenerative braking to aid your ride. As you return the throttle to neutral, the first level of regenerative braking automatically activates, providing engine-like braking. When the brake lever is pulled, the second level of regenerative braking initiates, giving you a higher level of braking and assisting the mechanical brakes.
Which one is right for you?
Choosing between the standard SR braking system and the new System 2 depends on your personal riding preferences, use case, and budget. The System 2 brakes offer enhanced durability and control for more demanding conditions, while the SR brakes continue to provide reliable and efficient performance. Ultimately, the choice is yours, and either way, you're in for a superior ride.
Some conditions where you might consider an upgrade:
Daily use in mud
Daily traversing of steep terrain
Constant stop and start applications