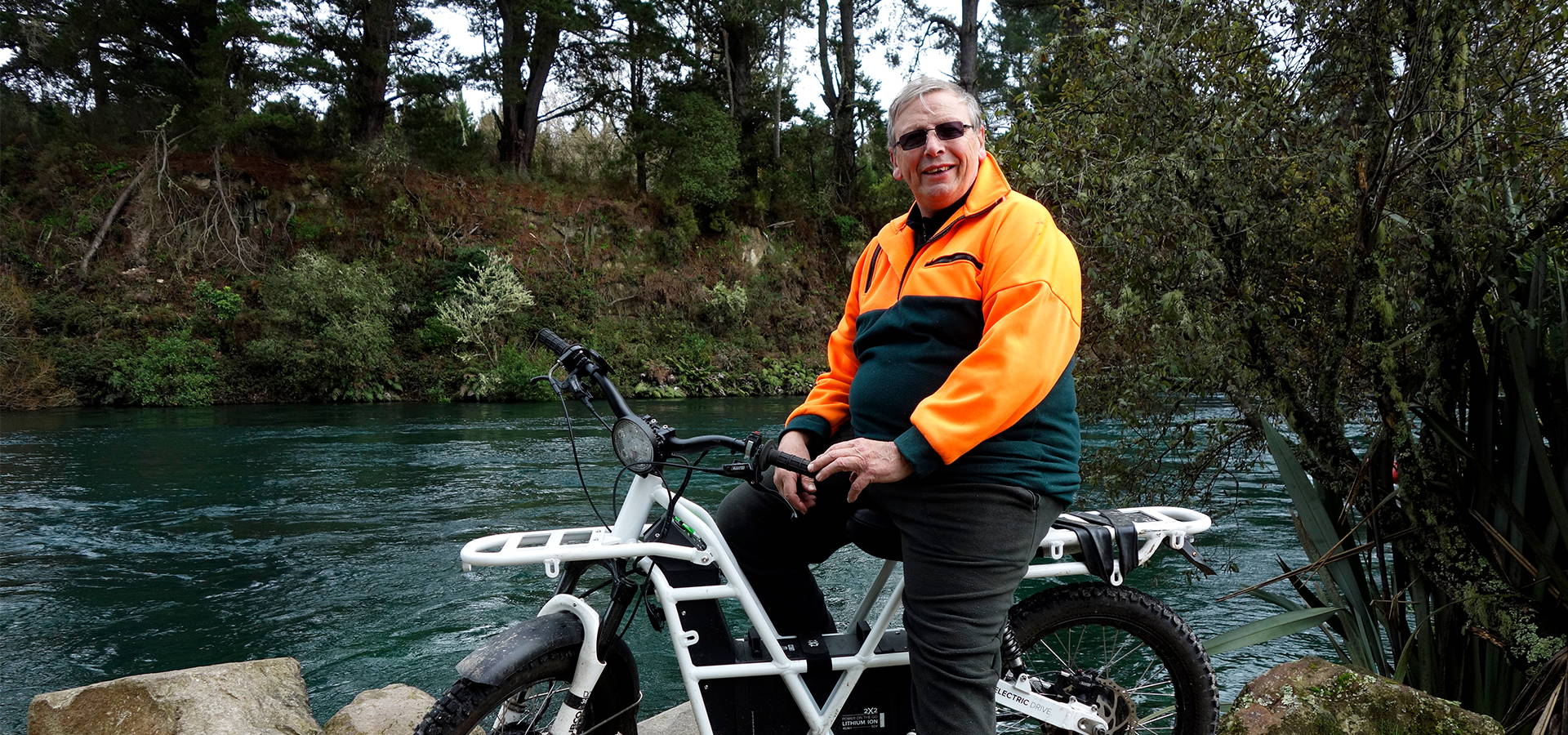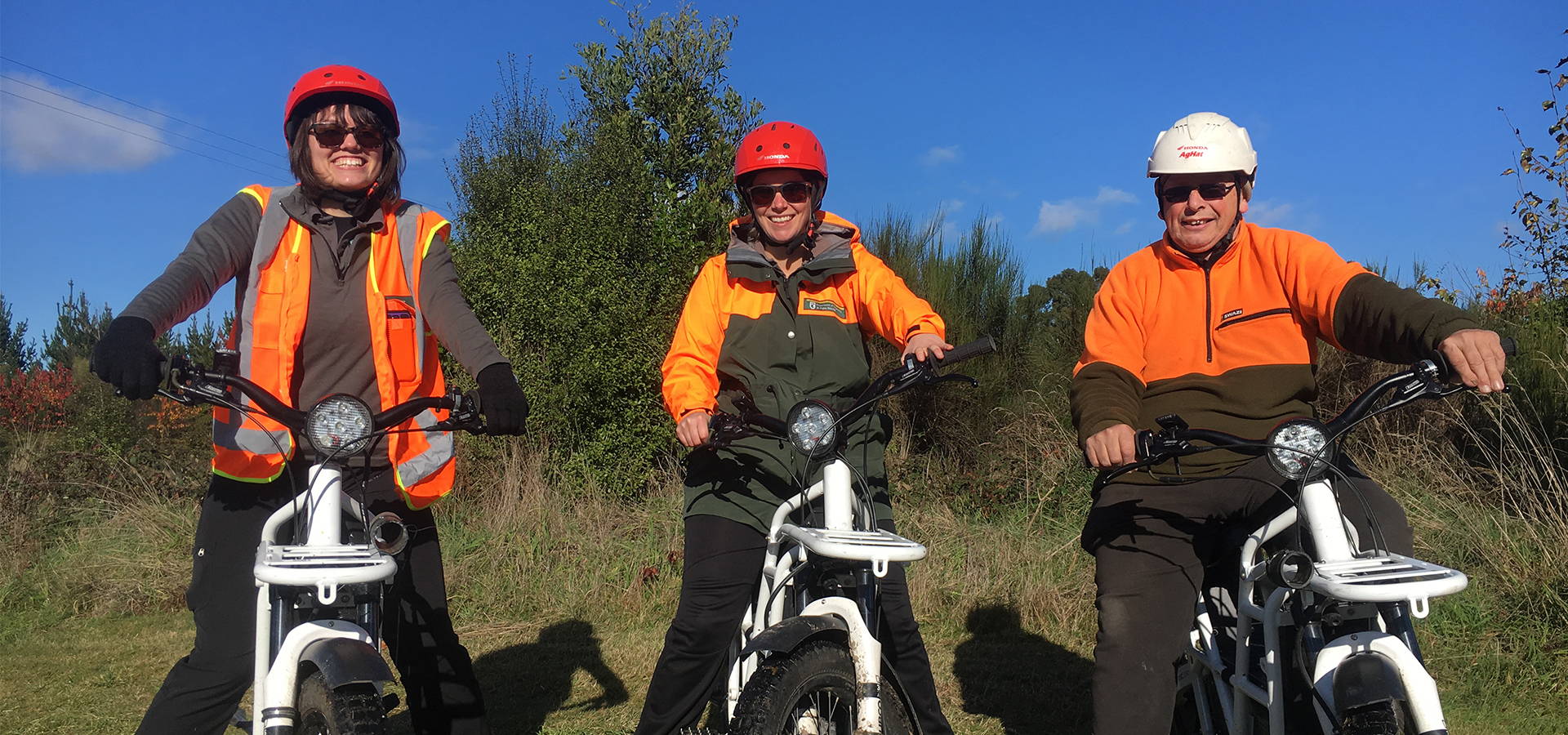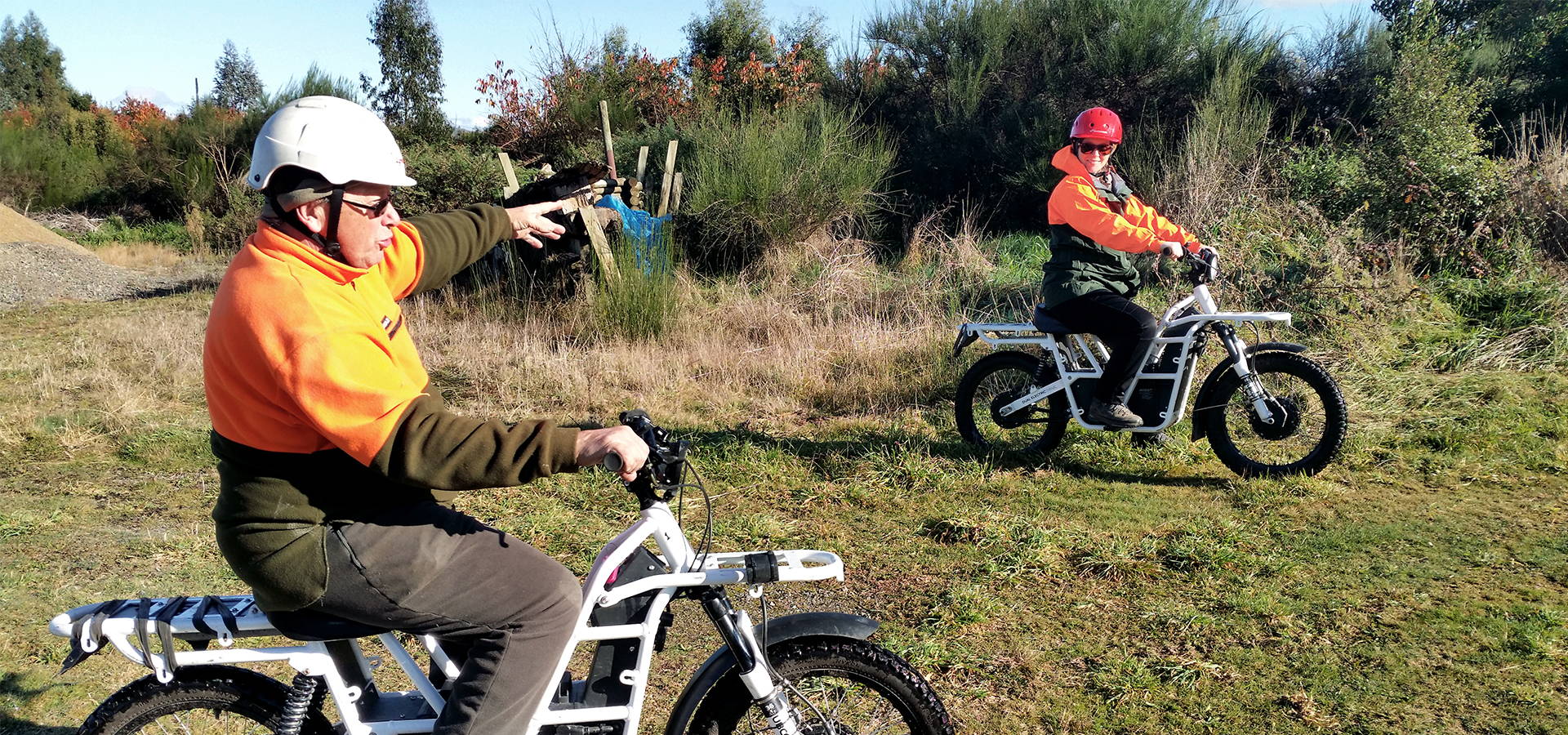 CASE STUDY: Conservation
Caring for the Land
The Department of Conservation (DOC), with the help of DOC Rangers, takes care of everything from land maintenance, forest parks, native species, marine life, to restoration projects. They are there to preserve the character and quality of New Zealand for future generations.
Roy Baker, a recently retired Ranger, worked at DOC for 27 years in a variety of different roles. After working in possum control at Task Force Green and Trout Management at New Zealand Fisheries, Roy became a Ranger for DOC Taupo where he worked for 12 years.
"It was my passion for the environment that made me want to work for DOC. I've always had a special place in my heart for the outdoors, the environment, and our bird life. Mixing it all together was something DOC gave me the opportunity to do."
The Taupo team is made up of three Rangers who look after the land spanning from the Kaimanawa Forest Park, through to the Boyd and Cascade huts, as far North as Atiamuri, and then out to the Western Bays.
"I'd hate to have a guess at how many square kilometres the team looks after", says Roy. "All the reserves and tracks in those areas come under their care so there is never a quiet day. Storms and windfalls can cause a lot of damage to the land, which can be a serious issue when the tracks are in remote locations."
Tools of the Trade
To help with their workload, the DOC Taupo Rangers are using two Ubco bikes.
"DOC has had quite a change in direction with transport. They no longer use quads due to safety concerns, and other side-by-sides are unable to navigate the tight tracks and sharp turns, so the fully electric UBCO 2X2 is ideal."
As Roy explains, the bikes are a valuable asset for DOC. "The bikes are very versatile and usable. One of the best things is that they take away the timely foot slog of getting into hard to reach places with lots of equipment."
Roy is a motor and push bike expert, with lots of experience under his belt. He owned and operated 'Roy's Cycle World' from the age of 19, and was a founding member of the NZ BMX Association. So, when he first saw the 2X2 on the news, he was hooked.
"Being a motorcycle enthusiast, I could see the benefits of the bike and was intrigued. As a low maintenance, light weight and manoeuvrable unit, I thought it would be great for DOC, especially as some of its sites are in remote and hard to get to locations, which often meant maintenance took several days and we'd either tramp or fly in. Plus, with no emissions, the UBCO had all the environmental benefits going for it too."
Convinced that the UBCO 2X2 was the answer DOC needed, Roy took one home and wasted no time in getting to know the ins and outs of the bike. He then put together a business case and standard operating procedure for the bikes in the field.
"It is all about efficiency", says Roy. "The bikes cut down working time, which means there's more time to do the work that matters and preserve the land. It's as simple as that."
In Roy's eyes, a big benefit is that the bikes cut back on risk factors and allow the Rangers to engage with the public.
"A lot of the maintenance work carried out by the Rangers involves toing and froing on public tracks. The ease and usability, and lack of a noisy engine, means stopping to deal with the public is such a pleasure. There is also less concern with public safety on the tracks when the Rangers are out and about doing maintenance, which was always a concern with quads as they aren't as nimble or easy to use."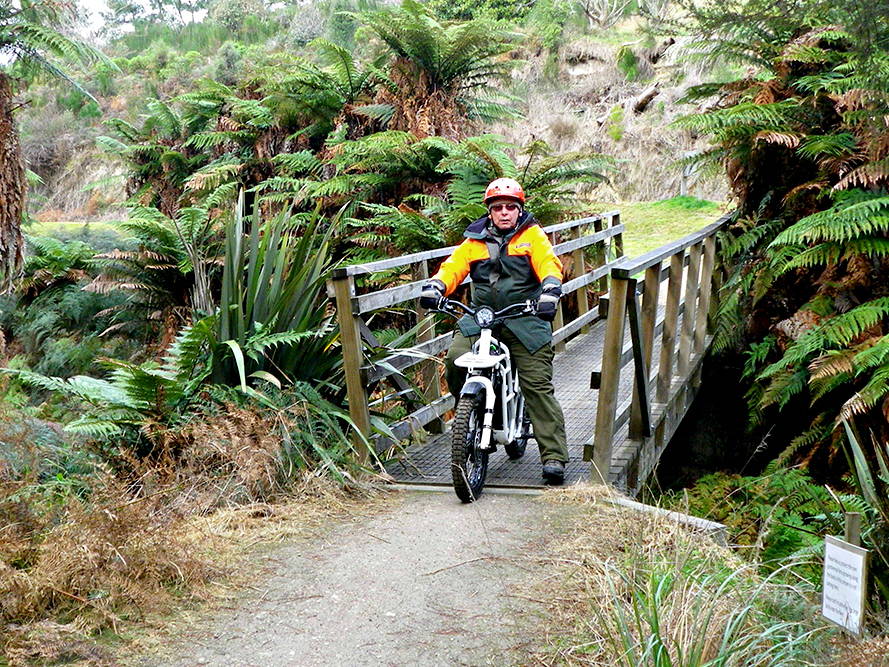 Roy Baker using the Ubco 2X2 on the high use Rotary Ride to Huka Falls track. Image supplied by DOC.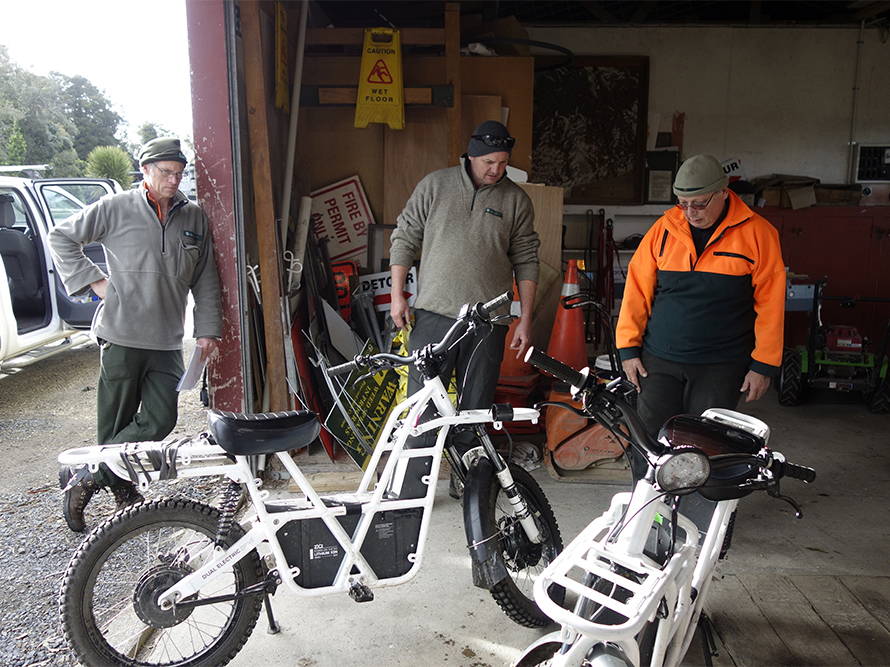 All in a Day's Work
Since they were commissioned, the bikes have been put to good use.
"Maintaining the tracks and land around here is a full-time job, and the UBCO bikes play a vital role in that. A typical day for the Rangers usually starts with a windfall, track damage or something that needs attention. That's where the bikes come in. In no time at all, the Rangers can jump on the bike and check it out. Once they have a better understanding of the issue, they head back and load the bike up with all the tools and gear they'll need, whether that's a chainsaw, wooden posts, spades or paint. The bikes make quick work of what once would have been a big job, with lots of walking and heavy lifting."
Roy was also responsible for the training procedure used by DOC. Nearly all the staff there have been put through their paces by Roy, before being signed off to operate the bikes.
"My knowledge of motorcycles and working with groups and clubs has lent itself to training and upskilling a lot of staff in my time, and that's what I did with these bikes. The good thing is that they are so are easy to get to grips with. I once trained someone who had no experience using a throttle, and in no time at all she was comfortable and ready to go."
A New Adventure
After years of working in the bike industry, Roy has embraced the move to electric.
"I love that you don't get lathered up in oil and chains. I've been there and done that with motorbikes and farm bikes over the years, so it's refreshing to have something that's capable, yet clean, green and safe."
Although Roy has retired, he won't be going far.
"I am still deciding on what I'll do in this next chapter. I'm not a bloke to sit around, so it's safe to say it will have something to do with the outdoors where I can stay in touch with our environment."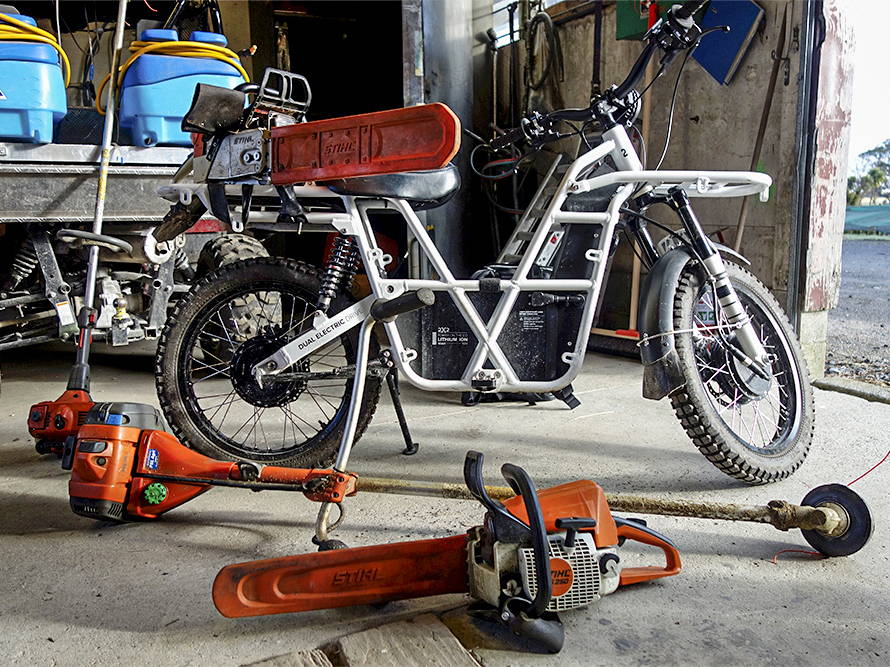 The DOC Taupo team use their Ubco bikes to transport a variety of tools to help with maintenance.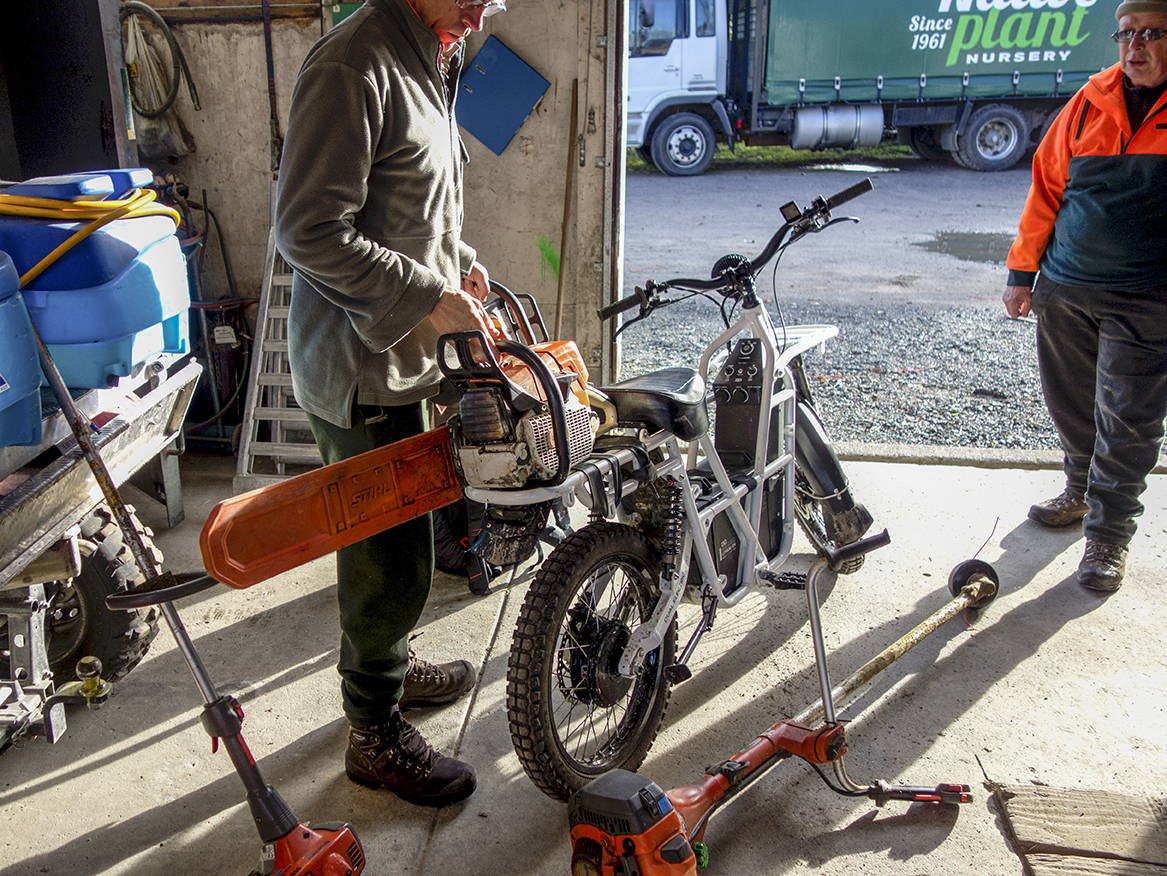 Chainsaws and other tools easily attach to the 2X2's versatile frame.
A special thanks to Roy Baker and DOC NZ for showing us around your Taupo operation. Selected images are supplied by DOC NZ. Could an UBCO help you with your conservation work? Shop now or test ride a 2X2 at your nearest dealer.