Every spring, Greg Aitken likes to escape the rainy Pacific Northwest for a week of dry desert trail riding with his dual-sport motorcycle in Southern Nevada. However, one week before his trip, the piston on his motorcycle "grenaded" and destroyed his engine. There was no way to salvage the bike in time for the trip, so Greg was going to cancel until a friend of his suggested that he gives up on complicated 4-stroke internal combustion engines and try riding something with fewer moving parts and less maintenance headaches. How about an electric bike? He reminded Greg that the North American UBCO 2×2 Distributor was located in his hometown of Eugene, Oregon.
Greg called up the UBCO office and told them his sob story. Much to his delight, they told him that they would let him try out one of their 2017 UBCO 2×2 demo bikes to get some exposure to a rugged desert environment. Greg left a few days later with an UBCO 2×2 hanging off the back of his SUV, excited to try something new in one of the most beautiful wilderness environments in North America.
After 10 hours of driving, Greg couldn't resist stopping at the Crescent Sand Dunes OHV park near Tonopah, Nevada and giving the UBCO 2×2 a spin in the sand dunes.
"I had a blast powering up the flanks of the large dunes, then carving turns going down the slipfaces. I'm an avid skier, and the UBCO in the sand was the next best thing to powder skiing. I was impressed with how well the UBCO 2×2 powered uphill in the sand with its two-wheel drive functionality."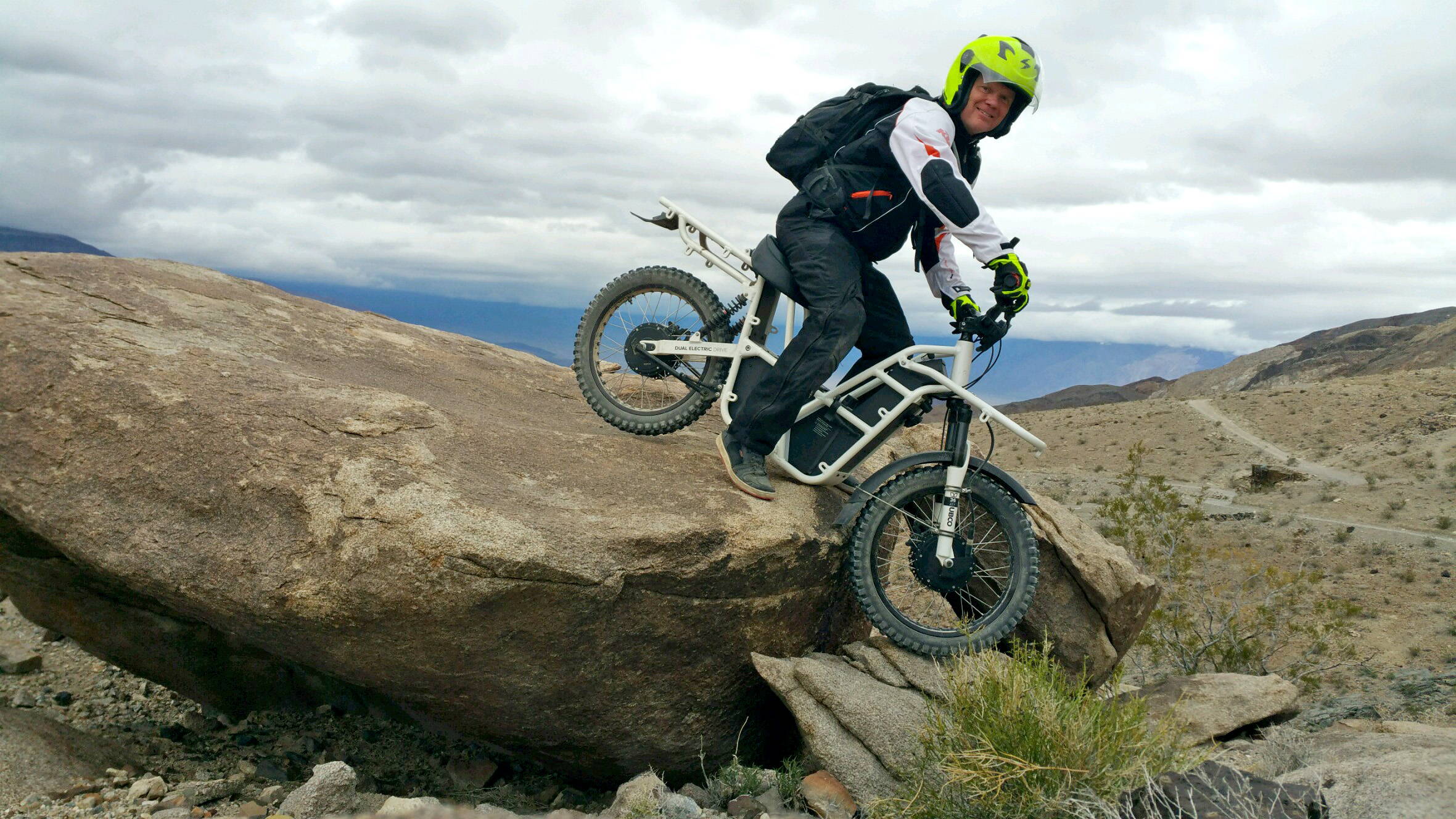 Next stop, after a good night's sleep and another few hours of driving, was the Cerro Gordo abandoned silver mine in the eastern Sierra Nevada mountains of California. Greg rode his UBCO 2×2 on the 11km rough jeep road with an elevation gain of over 1500m. The caretaker at the mountaintop mine was so impressed with the UBCO's accomplishment in getting up that road that he gave Greg a personalized 2-hour tour of the mine's features and structures.
On the next day, Greg arrived at his final destination, Panamint Springs in Death Valley National Park. His first ride there was the jeep trail to the inhabited ghost town of Darwin, with 40 lonely residents. The trail was very rough in places and Greg couldn't help but take his UBCO 2×2 into a boulder field for a good picture.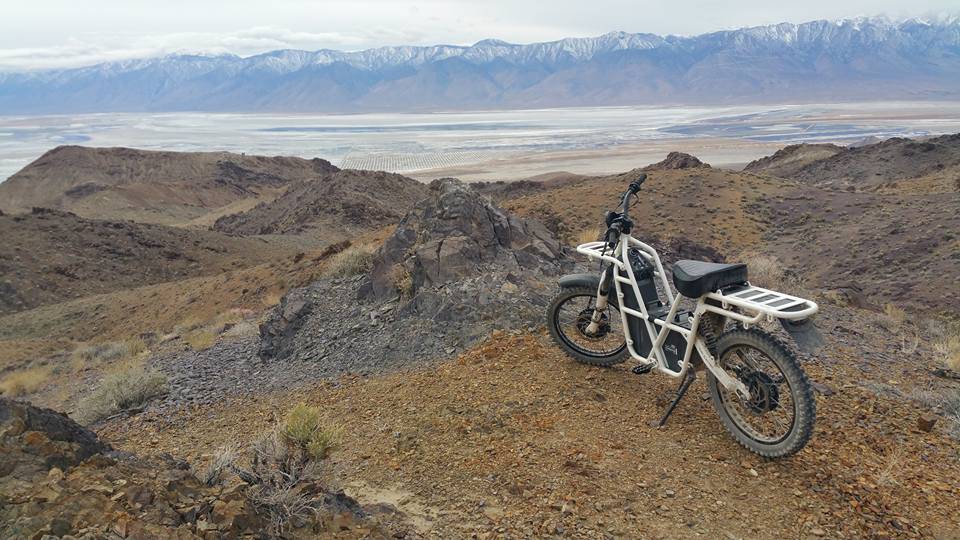 Towards the end of his trip in Death Valley, Greg was able to ride a friend's Honda Africa Twin motorcycle for a day to become re-acquainted with long-distance riding. "Although I really enjoyed the big 240kg bike for fast pavement riding, I missed the advantages of riding the lightweight UBCO 2×2 when the going got rough on jeep trails. After all, the UBCO's lightweight 58kg. and nimble agility made it much less likely and traumatizing to lose balance and drop the bike. I also found that the absence of engine noise with the UBCO 2×2 made it possible to see a lot more of the local wildlife, especially the wild donkeys!"
In finishing up his trip, Greg decided that as a desert adventurer, he really needs two bikes, an UBCO 2×2 and a Honda Africa Twin. The perfect combination for all of his recreational needs, in every riding situation!
Review written and supplied by Greg Aitken. Thanks for your honest opinions and for taking the time to explore with the UBCO 2×2.