Dylan Furst has a unique style as a photographer. A dreamy, otherworldly vibe embracing the darker tones of nature, in hard-to-reach forest areas, and in weather conditions many wouldn't venture out in - fog, low light, rain and snow.
What started as a side hobby and an escape from loading UPS trucks, has turned into a full-time gig. With clients like Land Rover and Filson, he's also collected over 1 million fans on Instagram, many with his prints hanging on their walls.
Along with some great tips and tricks, Dylan shares more about his work and the new trails he's riding around Bellingham, Washington and beyond.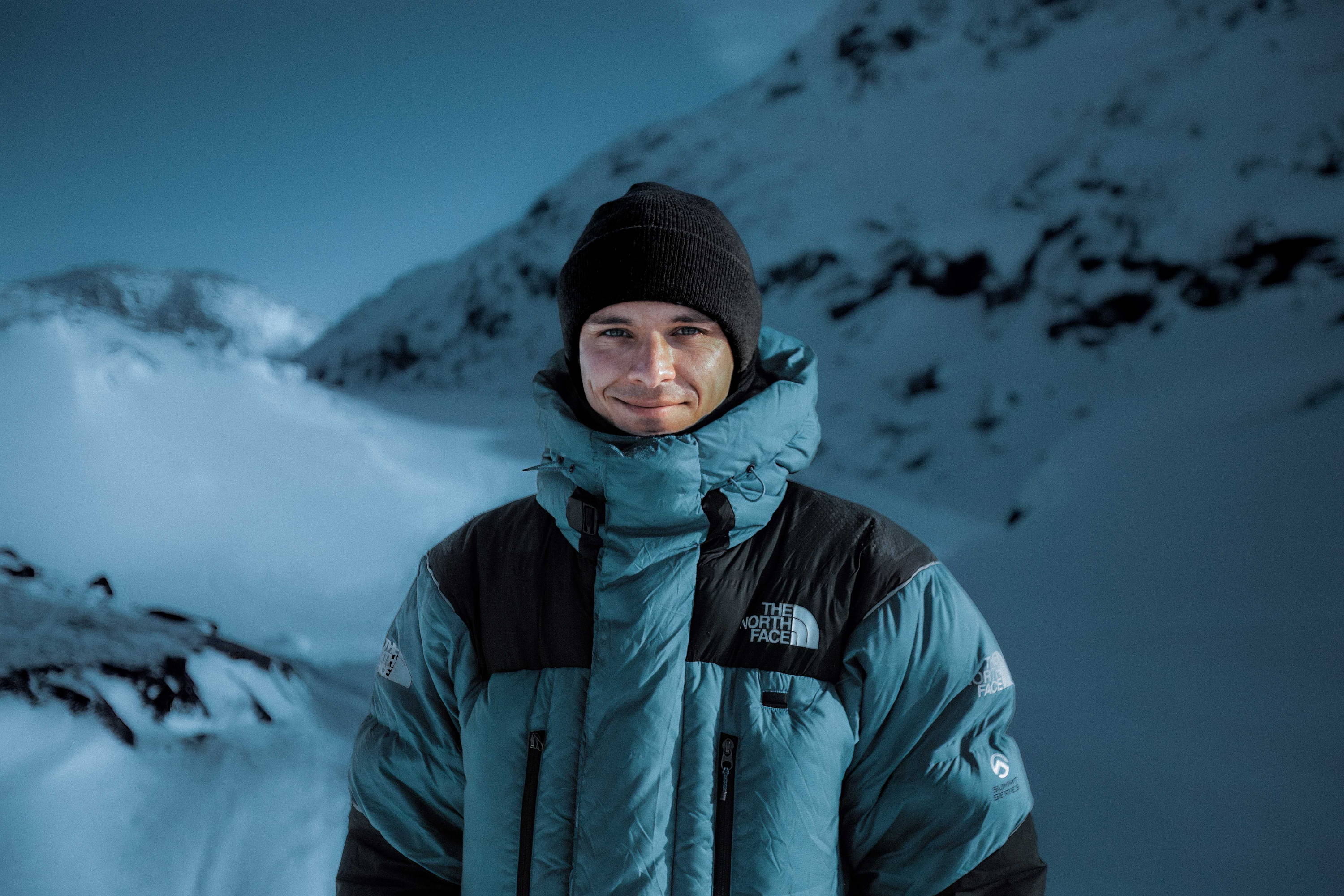 The SparK
Though I was into video production from a young age, I first fell in love with photography on an 8-month trip through Australia. But I knew I'd need a real job when I came back, so I worked at UPS loading trucks. With 3am starts I could finish at 9 or 10AM and make the most of photographing in the daylight. It was a kind of a therapeutic escape from work.  
About four years in, I was shooting my supervisors' weddings and stuff like that, then I got my first commercial request from Nature Valley where I decided to jump into photography full-time – I didn't want to look back with any regrets not fully going after it.  
I live in a little cabin on a glacial fed lake, on the outskirts of town. It's a beautiful, forested area, pretty rural and well known for being rainy. I remember in high school everyone would kind of complain that they couldn't wait to go to college and escape the weather. But the weather has become a huge part of my work, I love it.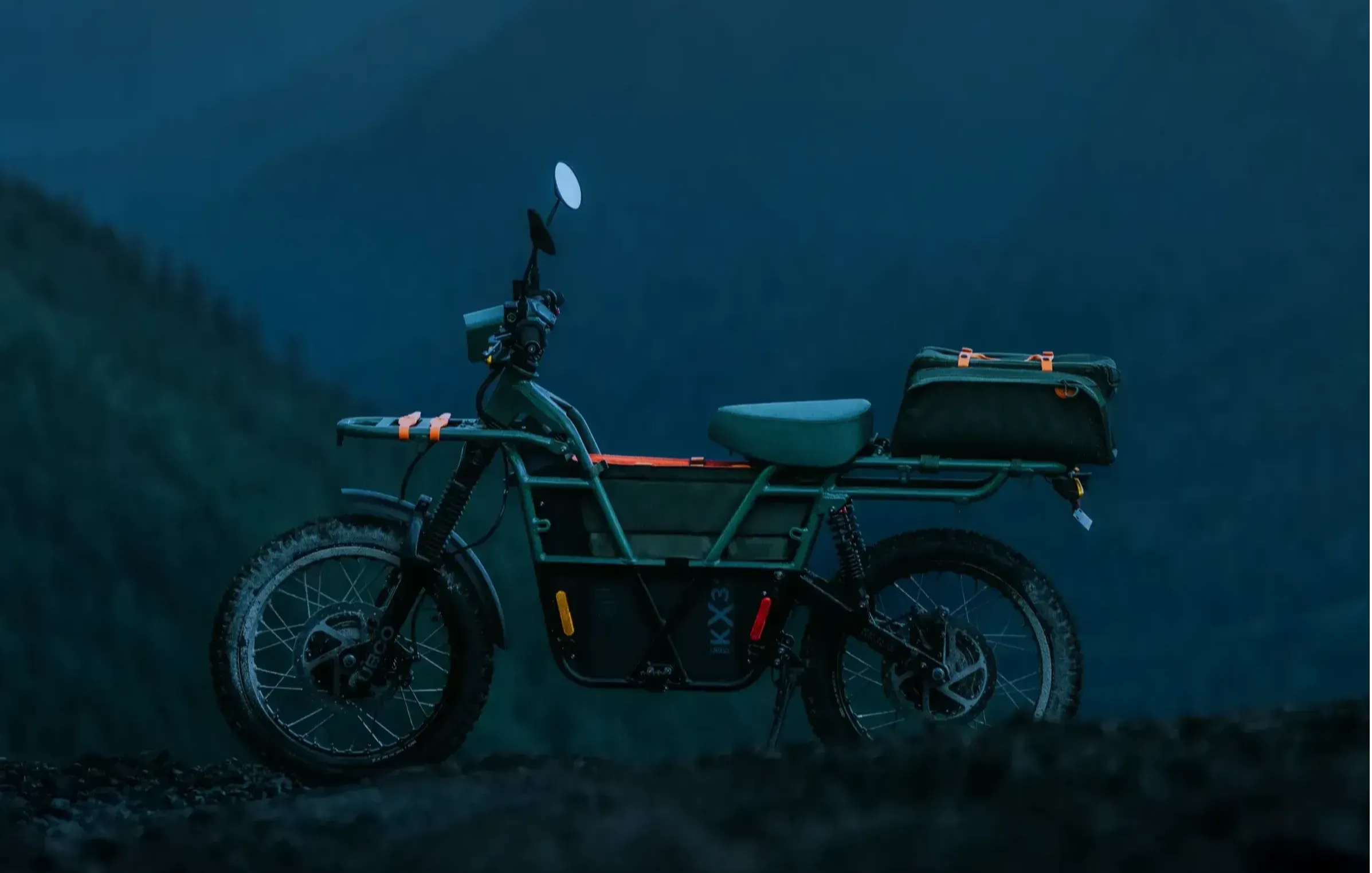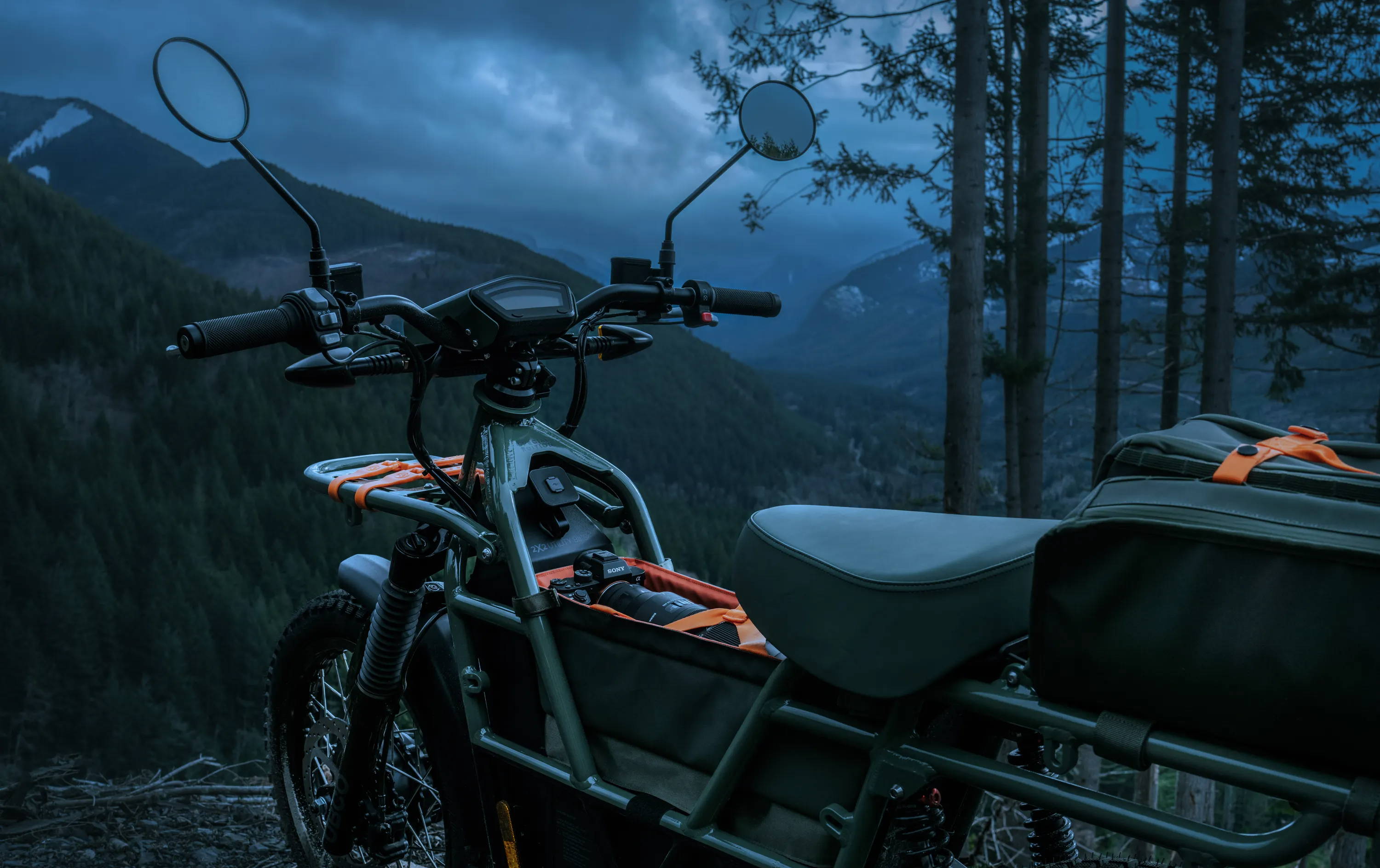 Off the Beaten Track
I'm especially a big fan of the local trails and my UBCO Special Edition has been really awesome getting me further out and to new spots.  
About a 5-10-minute ride from my house there's a really cool logging road that goes maybe 10-15 miles up a mountain and it just has incredible views of our local mountain, Mount Baker, and all sorts of trails coming off these forest roads. The systems are endless and there's new trails popping up so it's really exciting to find something new in a familiar area. I think I could never truly explore every single trail, even if I did it every day.  
We took the bike out to the Olympic Peninsula recently and it was nice to just pop it off the car and ride anything that looked interesting. We came across an old military base with a lot of abandoned buildings which was super fun to ride around. It felt like I was back in time, but also kind of in the future because the bike feels futuristic to me, so it kind of felt like I was in a movie.
A Head Turner
When I'm not on the trails, I'm riding around the neighborhood. It's like my daily meditation. Some of the gated roads near my house are windy and tight so it works well, and I feel safe being able to hear any oncoming traffic with the bike being really quiet.
This bike definitely turns heads! People stop me all the time and ask about it being electric, or about the fact it has two motors. So it seems like this is a new thing for a lot of people. We said it would be funny to make a compilation video of people's reactions when they see the bike. It's every time I take it out. People stop me when I'm riding or when I'm stopped and shooting. It always results in a conversation.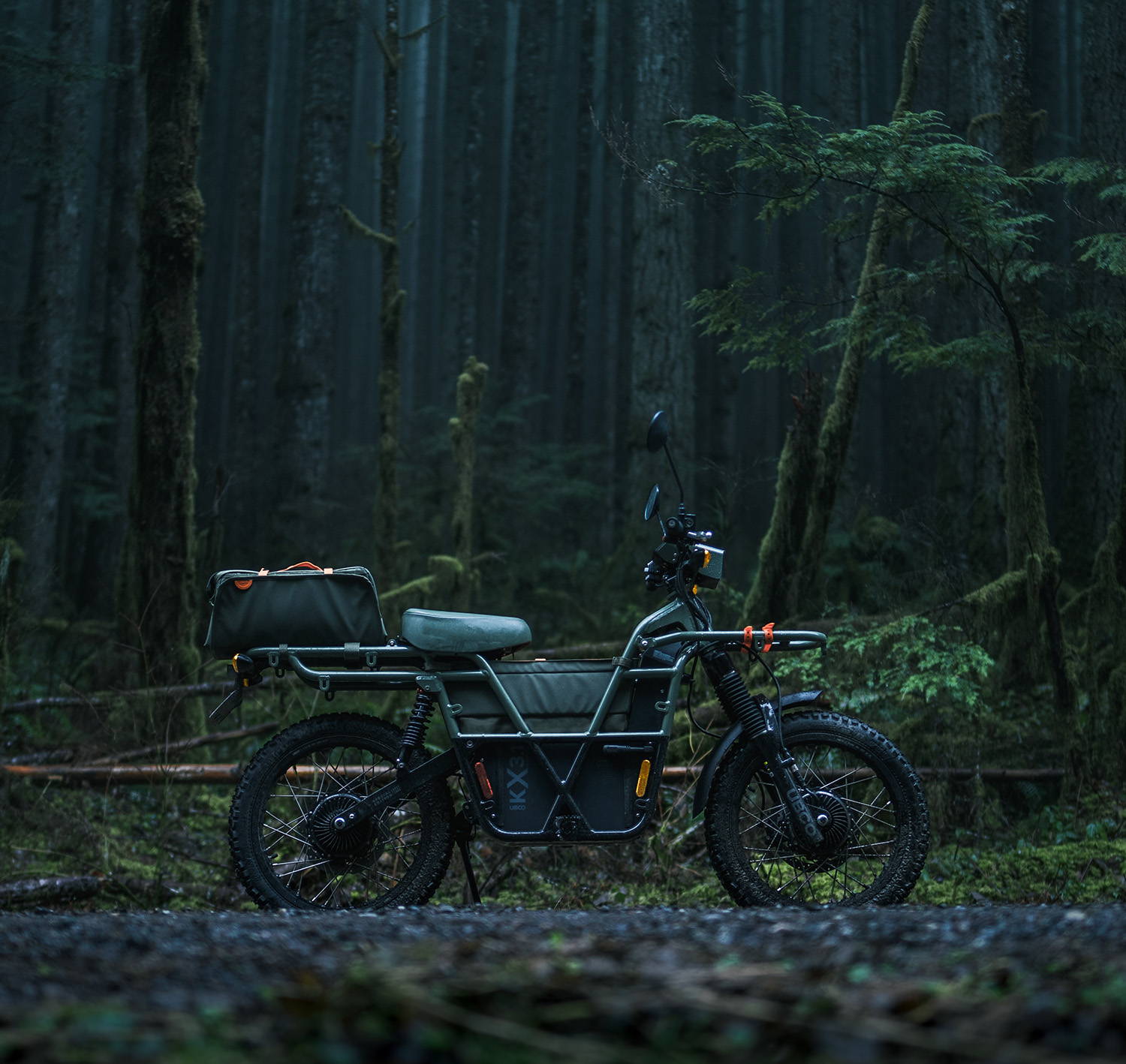 "It felt like i was back in time, but also kind of in the future because the bike feels futuristic to me."
– Dylan Furst
DYLAN'S PHOTOGRAPHY TIPS
#1 Don't let the weather stop you
A lot of people let the weather stop them from going out, but I like going out in the rain. Rain is my favorite weather now because it inspires me so much and if you appreciate that and accept the weather, then you can really find your way and create a new perspective.  
I feel like it opens a whole new world that I can discover and share with people and maybe it'll change their perspective. It's kind of Peace of Mind for me. The Special Edition has great water-resistant storage, which really helps my style of photography and I always bring a little microfiber cloth to dry off my camera gear.  
#2 Shooting in darker areas
Don't be afraid of shadows! In darker areas use a lens with high aperture, I have a 35 millimeter 1.2 which can basically see in the dark. You don't necessarily need to push your camera to the limit to get the standard perfect exposure – that will often result in a lower quality image. But also think about your editing process, it's important to get it as close to the camera as you can before bringing it into editing software.
#3 Spend time, see details 
I could take pictures all day in my backyard. Just spending a lot of time in a specific area I found a lot of things that I would have missed otherwise. I love the details and I'm pretty patient.  
A lot of my photography is solo because of this, and because I love to explore without a plan. With this, I never have expectations about seeing anything magnificent. But there's so much to see and find if you slow down and look closely. With no expectations, things will come to you and you'll see things differently.
#4 Experiment  
Developing your style and knowing what you want out of it is important. It takes time, but you need to get out there and experiment. Trying new things is really important.  
When I started, I think I was more into street photography. I really liked gritty urban environments and stuff like that. And when I did video, I did mountain biking videos outdoors. It wasn't until later on I started taking pictures of nature more and I realized that's what I was really passionate about, especially given where I live. So now my style is all about the details and beauty in the darker side of nature often overlooked.
#5 Don't get caught up in the gear
My first camera was a Nikon that my dad passed down to me. Pretty soon after that I switched to a Canon entry level DSLR that I used for 6 years up until 3 or four years ago. Then when I was in a funk, I switched to a Sony A7R4, with telephoto lens and some portrait lenses. I realized I needed to focus on myself and that it was never ever about the gear.  
Back then I thought I could get out of a funk with a new camera when I really needed to take some time to focus on myself. Now I look at it a little differently. There's so much you can do on your phone alone these days, and it takes away that pressure of having to get something great. Because you have your phone with you all the time, you don't have the pressure of capturing something great, you capture moments.