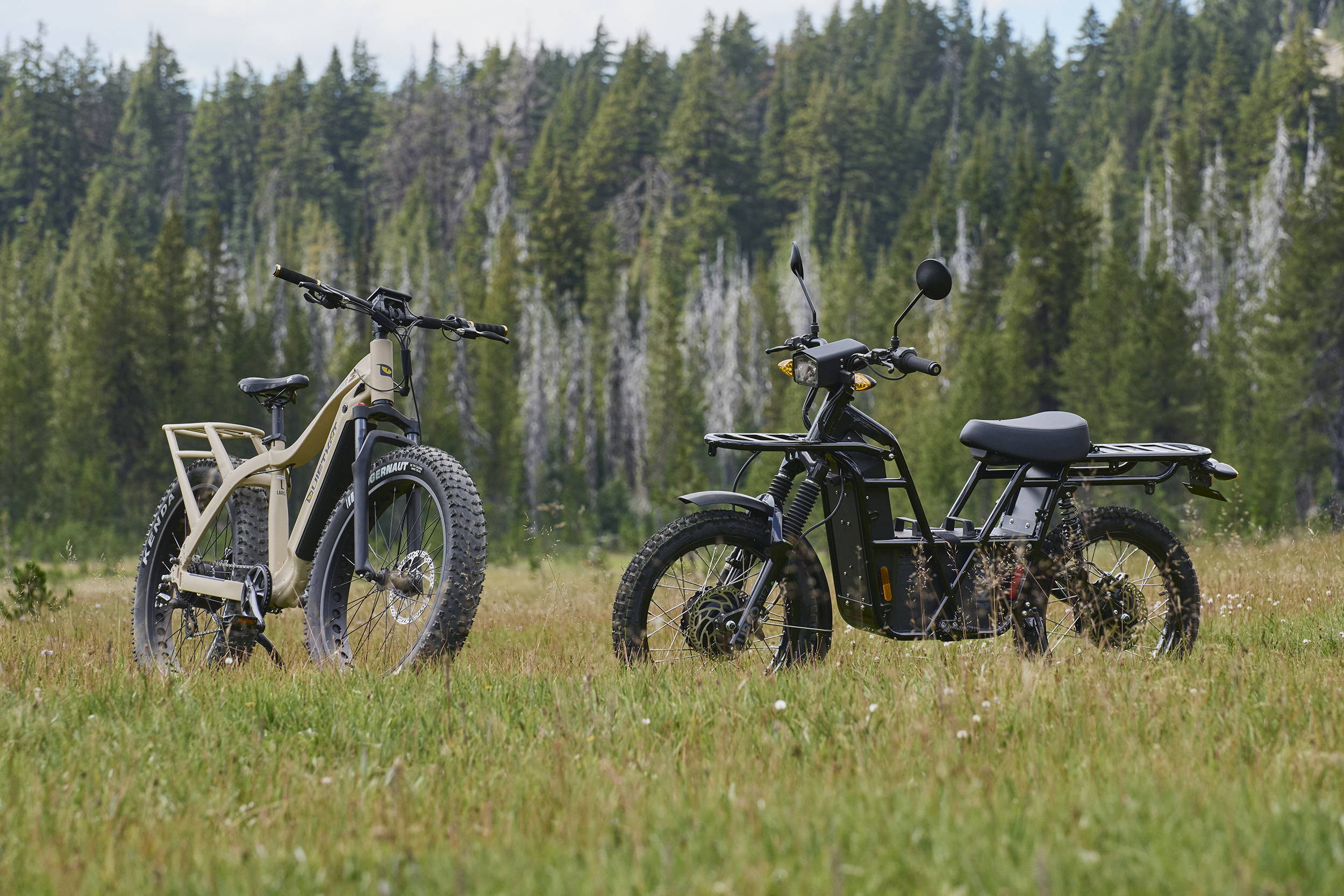 You're not alone if you're overwhelmed by all the different types of two-wheeled vehicles on the market these days. It's a common frustration for many people we talk to.
Driven by climate change, affordability, policy, gas prices, and urban congestion, the shift to an electric lifestyle is gaining popularity.   
We've all heard about the advantages of electric cars, but what about electric motorbikes like the UBCO 2X2? How do they stack up, and what is the difference between electric motorbikes, e-bikes, and motorcycles? 
Electric vs. Internal Combustion (Gasoline-powered) 
Electric motorbikes and e-bikes run on rechargeable lithium-ion batteries. These can be charged by plugging the charger directly into power outlets in your home. The difference between an electric motorbike and an e-bike is how the power is delivered. Motorbikes use an electric motor as their power source, while e-bikes differ slightly because the electric motor is used to provide pedal-assisted power. 
Traditional motorcycles use a gas-powered internal combustion engine (ICE) that is complex, loud, and produces carbon emissions, compared to their electric counterparts, which are much simpler and quieter while producing zero emissions. 
Range
Gas-powered motorcycles tend to have a range of roughly 75 to 200 miles on a tank of gas. With electric, the range supplied by the battery depends on the capacity: a bigger battery size (capacity) means more distance traveled (range) on a single charge.  
Electric motorbikes typically range between 40 and 75 miles, although some can go as far as 200 miles. E-bikes generally have a battery range of fewer than 30 miles (but can also be supplemented by pedal power from your legs). 
Our UBCO 2X2 has a maximum range of 75 miles, and each electric vehicle model will provide you with a theoretical range like this to give you an idea of how long you can ride.  
In the real world, the range is affected by different variables such as weight, incline, and terrain—even riding style. These variables affect the maximum range and can differ from rider to rider on the same vehicle. 
It's important to note that this variability also applies to internal combustion engine vehicles. The difference is we're used to dealing with it by having gas stations nearby. 
Speed
ICE motorcycles powered by gasoline can reach speeds up to 200 mph. Some electric motorbikes can also achieve these speeds. The UBCO 2X2 electric motorbike has a top speed of 30 mph. By comparison, when pedaling an e-bike, you may generally reach only 15-20 mph on average. This difference in speed eliminates the need for on-road motorcycle licenses and insurance in many US states.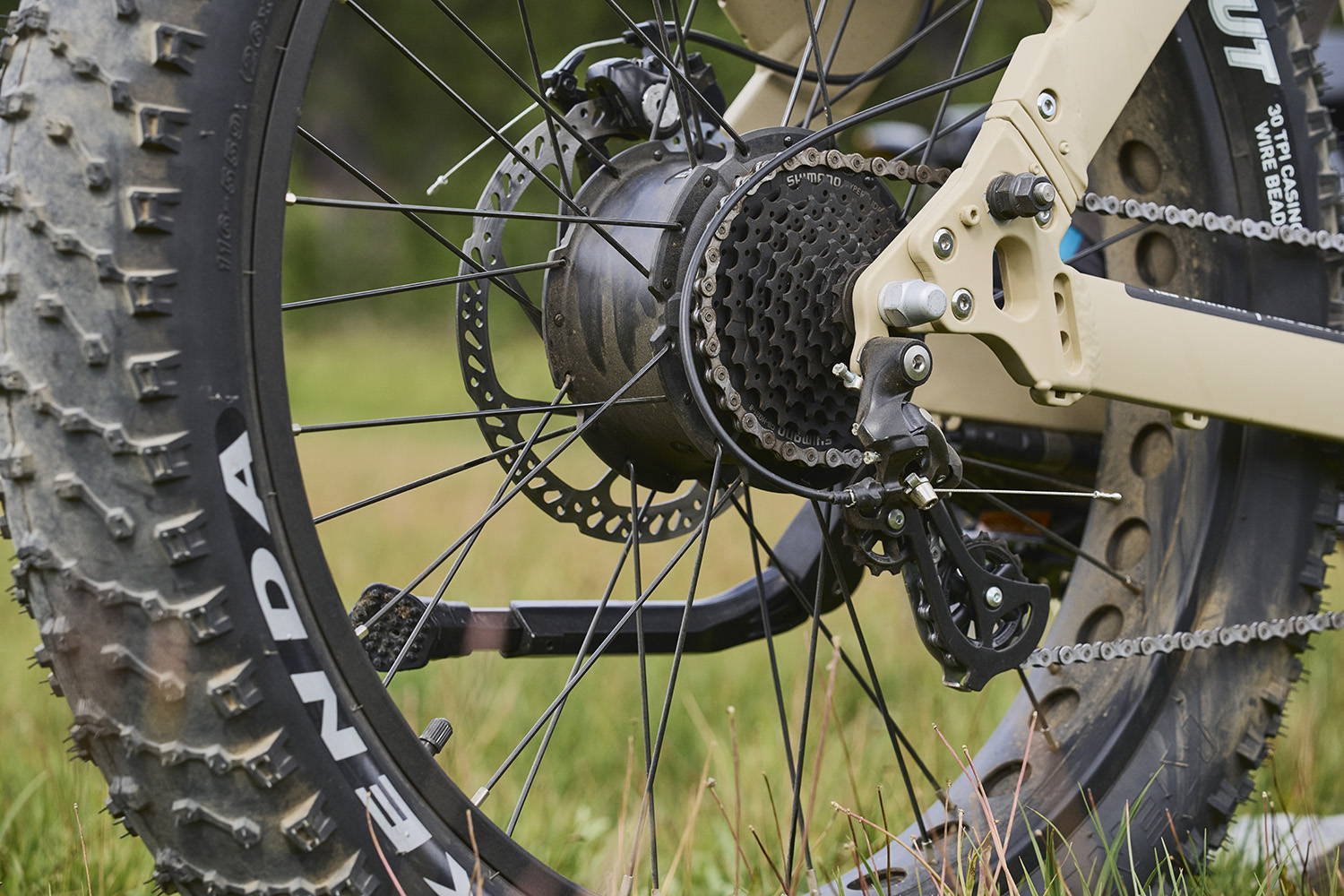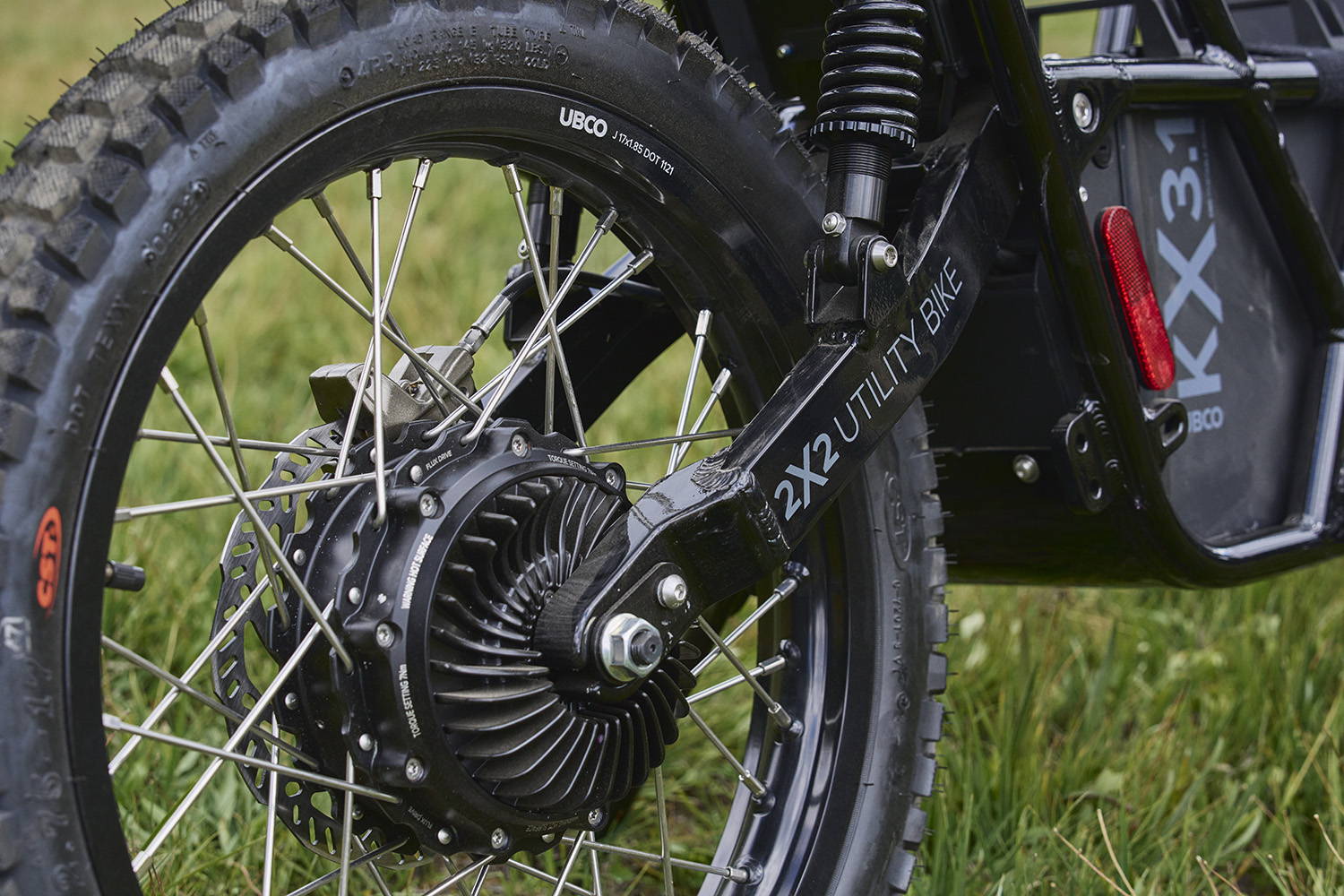 What Differentiates UBCO From Other Electric Motorbikes? 
While the UBCO 2X2 is fully street-legal and performs well on paved roads, it is designed to be ridden off-road, up steep terrain over dirt, gravel, and snowy surfaces. With a durable 1000-watt motor in each wheel, the 2X2 provides increased traction and safety for its riders.  
The lightweight yet highly sturdy alloy frame, stainless steel spokes, and customizable cargo attachment system allow for a payload of up to 330 pounds, including rider. And first-time riders will enjoy the step-through frame design, low center of gravity, and twist-and-go throttle.   
OTHER KEy Features:
Detachable battery: Removable waterproof battery with a 75-mile range makes charging and transporting extremely convenient.

 

High-powered dual hub motors for hauling and climbing hills with vigor  

 

Electronic throttle: Makes operating the 2X2 an intuitive and stress-free undertaking

 

Eco, Balanced, and Boost modes to control your power curve

 

Light, medium, and strong regenerative braking options  

 

19 attachment points to secure and carry cargo

 

UBCO App: Communicate directly with the motorbike's onboard vehicle management to customize your ride.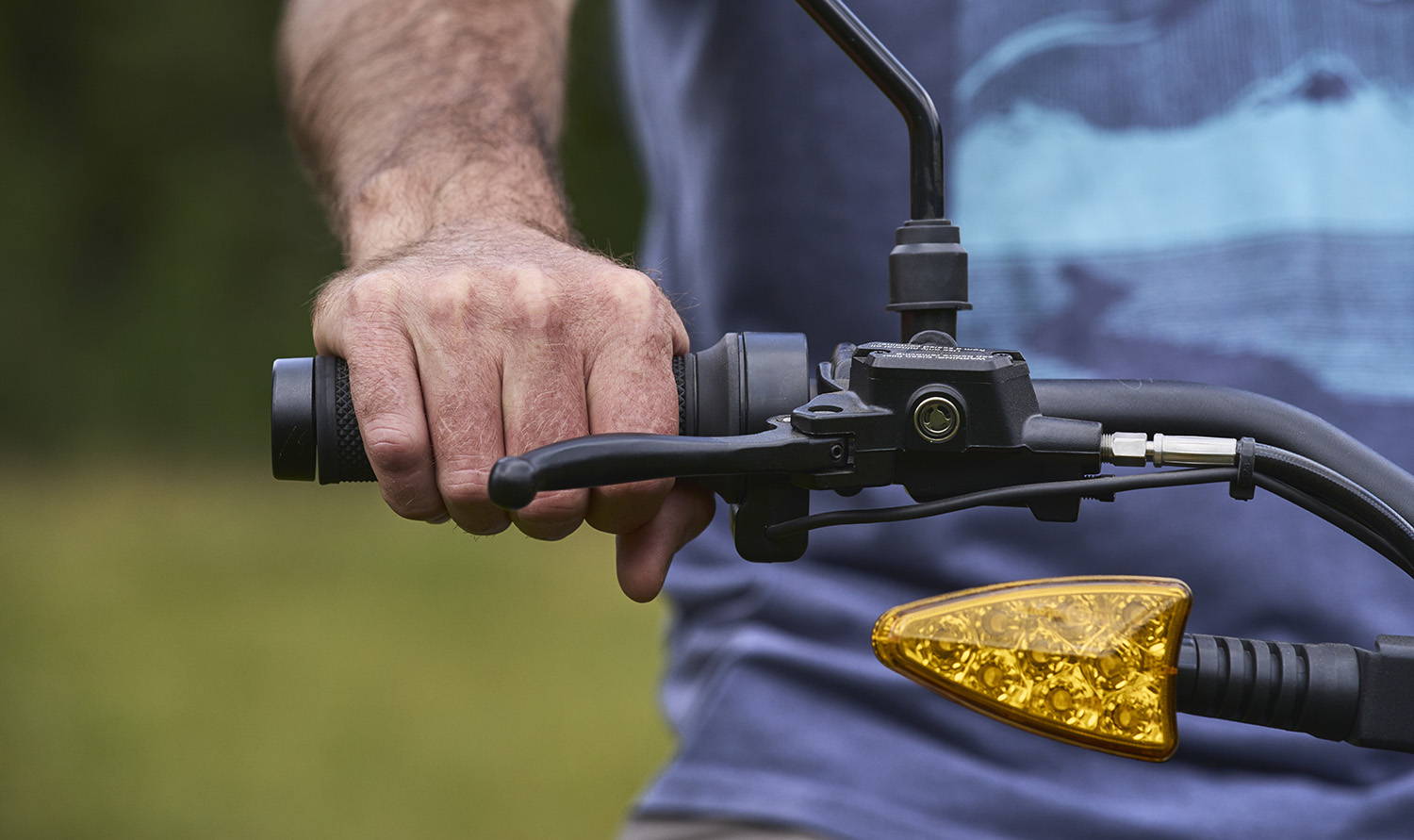 Generally Speaking 
E-bikes are lighter than UBCOs but don't have the same speed, range/battery power, and load capacity; and are generally not built tough for off-road use. 
Street motorcycles are generally faster than UBCOs with a more extended range but are also more expensive, heavier, and require advanced riding skills and a motorcycle license. They are also more challenging to maintain, and most street legal models are not built for off-road use.  
Dirt bike motorcycles do well off-road and can be in the same price range as UBCOs, but are not street-legal. And like street motorcycles, they are also more challenging to ride and maintain. 
What Else Should You Consider Before Making an Investment in Your Two-Wheeled Future? 
If you're looking for an eco-friendly and cost-effective way to travel to work, electric motorbikes such as the UBCO 2X2 are the way to go. These powerful machines provide all the durability and muscle of a motorcycle without the high fuel and maintenance costs.  
Electric motorbikes are also much lighter than their gas-powered counterparts, making them easier to operate. So, if you're looking to ditch a traditional motorcycle's noise and expenses without sacrificing style, why not consider an electric motorbike?   
E-bikes have a wide price range but are generally a less expensive and lighter alternative to electric motorbikes, but they come with a few trade-offs. They're not as fast or powerful and have shorter battery life. You'll also need to pedal, especially when going uphill, which is ideal for those looking for some exercise (sweating!) during their riding experience. 
There's no question that electric motorbikes have a lot of advantages over their gas-powered counterparts, but there are also some drawbacks. They will not be able to reach the same speeds as a traditional motorcycle (which isn't as relevant in urban spaces) or travel as far.  
With a motorcycle (over 50cc), you will also have to obtain insurance and a special endorsement to ride. 
While the UBCO 2X2 Adventure Bike is road registerable, it is typically classified legally as a moped. In terms of licensing, you usually need a standard driver's license to ride the 2X2 Adventure Bike on the road. However, some states require an entry-level motorcycle license. Where classified as a moped, it does not usually require a motorcycle endorsement—just a driver's license—but this can vary by state. Check your local road rules to understand its legal class, how fast, and where you can ride your UBCO. Those riding off-road only won't need a license but should always check local laws.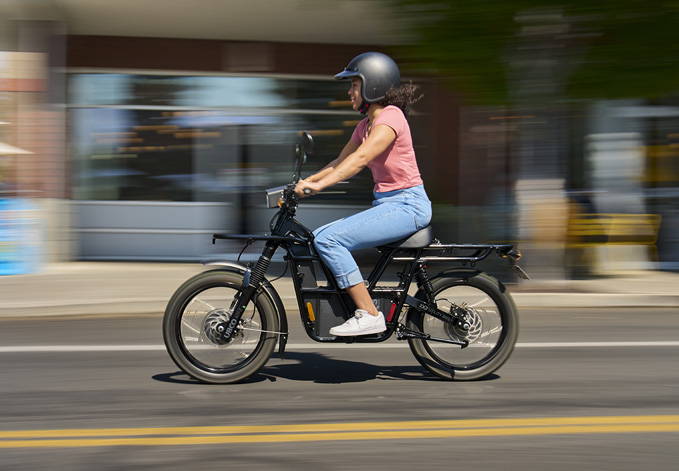 How Can the UBCO 2X2 Improve Your Daily Life?
Our electric motorbike is changing the game by providing unmatched versatility in a single vehicle. Advantages of choosing UBCO include:
Commuting to Work 
Save money on gas

 

Twist & Go with no clutch for easy riding

 

Nimble design lets you maneuver through traffic and accelerate from traffic lights

 

Convenient parking and maneuverability in congested city settings
REcreation/Vacation
Extend your ride into an adventure with a 75-mile range and no pedaling

 

Park up the RV and get to unexplored areas surrounding your campsite with its off-road capabilities

 

Use the 19-lug system to attach your surfboard, fishing rods, hunting gear, ranch equipment, camping gear, cooler, picnic basket, and more

 

Haul more oversized items with a mini trailer

 

Charge your bike off solar or overlanding energy setup with an inverter

 

Take a quick trip to the store to replenish supplies without having to use your full-size truck or camper
Business Needs
Ideal for hauling small trailers and supplies around the farm

 

Cost-efficient local delivery capability making it perfect for food and postal delivery

 

Tourism fleets for lots of fun for all abilities and ages

 

Land and city management

 

Use for security around large workspaces.