CASE STUDY: PEST CONTROL
Wellington's Guard
The Greater Wellington Regional Council (GWRC) promotes quality of life by ensuring our environment is protected while meeting the economic, cultural, and social needs of the community. They aim to take care of the things that really matter in the Wellington region, including freshwater quality and biodiversity, water supply, regional resilience, and public transport.
Their specific responsibilities include environmental management, flood protection, land management, pest control, provision of regional parks, public transport planning and funding, and metropolitan water supply.
One of the GWRC's core functions is Biosecurity. Biosecurity is about protecting the environment, economy, and way of life from the harmful impacts of pests, both animals and plants, and diseases.
John Hambidge is a biosecurity officer for the GWRC based in Upper Hutt. He has been working for the council for nearly 5 years. John's department controls all the animal security risks in the region, which includes everything from goat and deer, to possums, rats, and stoats.
"Our focus is on managing existing invasive species across our region, whether that's treating for invasive plants, setting stoat traps in the Queen Elizabeth Park, or conducting night shooting operations to manage pests like possums," explains John.
A New Ride
After a demo ride in 2017, the UBCO 2X2 was on Pest Animal Team Leader Glen Falconer's radar as a vehicle option for patrols and other tasks.
"One of our senior rangers organised a test ride a few years ago which I attended. We tested the earlier model of the 2X2 on some typical terrain and loved the concept. However, for us to use them successfully they needed to be road registrable and have more power. Fast forward to 2018 and we did another demo ride on the new 2018 model, which provided the solutions we needed. We have since purchased two UBCO vehicles for our officers to use."
The Electric Advantage
The 2X2s are put to good use in the Greater Wellington Region. Along with surveying animal populations, checking tracks, and controlling pest plants, the officers use the 2X2 vehicles to help maintain their network of bait stations, which contain poisons or traps for possums, stoats, rats, and other pests.
"The main appeal of the electric 2X2s is that they are silent, making them brilliant for pest control," explains John. "Because they are light and manoeuvrable they also get us through tight tracks into the tough country, so we can now cover more ground, control more pests, and protect land you can't get to on regular bulky motorbikes. It also means we can work more efficiently, as we are doing less walking, which used to take up a lot of our time.
"When we head out on the bikes, the first thing we do is load the bikes onto our trailers, which is a much easier process than it is with our petrol bikes. Because the bikes are so light we don't need to use ramps to get them on and off, we can quite easily lift them. With petrol bikes, you have to take extra ramps, plus there is the health and safety risk of actually wheeling heavy bikes on and off of ramps."
"The bike is more than capable of doing a day's work with us. We are probably only using about a quarter of its capacity in a day."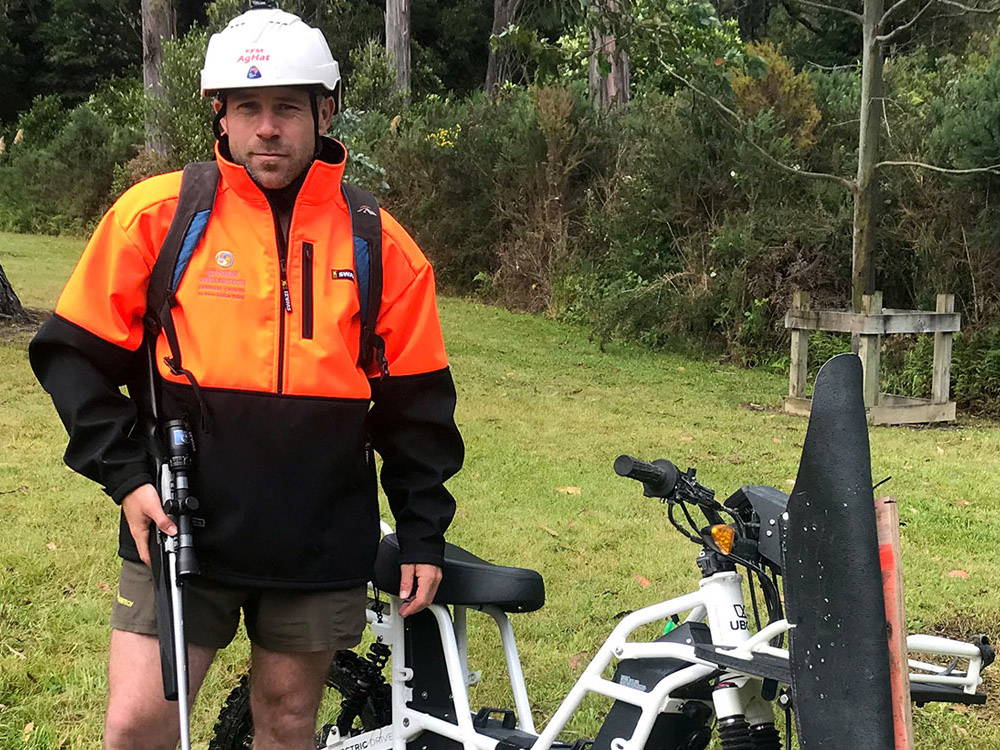 John Hambidge with an UBCO 2X2 equipped with the front and rear cargo decks, plus a scabbard to store a rifle.
Pest control is easy on the near silent 2X2.
The Silent Hunt
Silence is an important part of their most recent undertaking with the 2X2: night shooting.
The UBCO 2X2s are "providing the perfect platform for night shooting possum, rabbits, and hares, giving shooters the advantage of near silence during pest eradication," says Glen Falconer.
As John explains, "The silence of the 2X2 is a huge benefit. Petrol bikes can really spook the animals, especially when you have to accelerate and the noise of the engine builds, whereas the 2X2 doesn't have any of that because it's electric."
For John, the connectivity and weight of the 2X2 are the other real advantages in night shooting.
"Generally, when we go out night shooting we use the UBCO app to switch on hunting mode and disable the headlight, as we use helmet mounted spotlights instead."
"The first time I used the 2X2 for night shooting I was struck by just how suited they are for the job. They are a lot less tiring to use than conventional petrol bikes because the weight is so much less and you're not battling with the bike. It's difficult enough shooting off-road at night as you're having to contend with uneven ground, the conditions, and the animals around you, while in darkness. However, with petrol bikes, you also contend with fatigue. The 2X2 takes the fatigue element out of riding, which is really pleasing."
"One of our guys was out shooting deer and goats recently and using the front and back carrier he was able to transport a whole deer and a goat back to our main vehicle in one run."
Easy as 1, 2, 3…
"For me, the best thing about the UBCO 2X2 is how easy it is to ride," explains John.
"I was struck by it recently when I had to ride a petrol bike again. I had forgotten how heavy petrol bikes feel when riding off-road. If you get a bit off balance you have to save yourself and rescue the bike from falling over, which can be a challenge when they are so heavy. Because the 2X2 is so light, it doesn't create the same challenge. The UBCO is just effortless, whereas when you use a petrol bike you really have to put a lot more effort in. It can be very tiring."
Although their 2X2 vehicles aren't used every day, the officers are now working more efficiently, covering more ground, and getting into tight and remote tracks.
John loading the 2X2 onto their trailer, ready to head out on a patrol.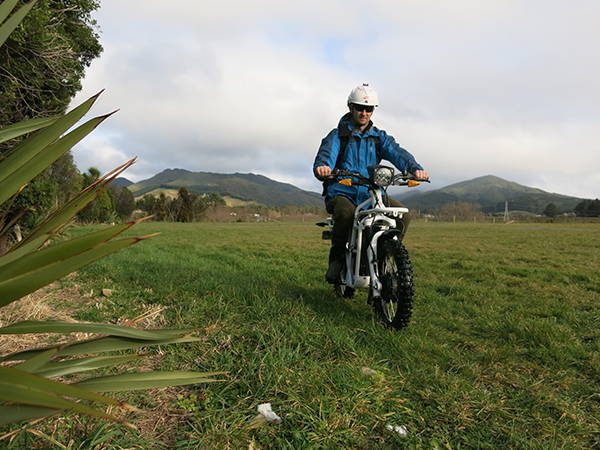 A special thanks to John Hambidge and Glen Falconer, and the Greater Wellington Regional Council. Selected images are supplied by the Greater Wellington Regional Council, and John Hambidge. Could an UBCO help you with your pest control work? Shop now or test ride a 2X2 at your nearest dealer.