We recently caught up with Steve Ellingford, the Centre Manager at Bayfair Shopping Centre, and heard all about the efforts Bayfair are taking to be clean and green, including their new EV charging stations.
"The installation of the EV Chargers was a centre initiative in partnership with the Regional Council to embrace the new EV technology and offer this growing service to our customers. Originally the plan was to install standard chargers, however this was expanded when we were approached by ChargeNet and Power Co who wanted to install the Rapid Charger in Tauranga. We saw this as a fantastic opportunity to increase the service and partner with ChargeNet and Power Co, and now have both chargers on offer."
Bayfair installed the charging stations in March last year, and so far, they've been very surprised by the public's reaction.
"We thought the response would be rather low key, however we were very surprised by the interest these have generated and how the usage has grown over the last 18 months."
Customers can drive in, park up, and charge their EV's using the standard chargers, free of charge. In addition, the two user-pays rapid chargers that are on offer make charging a quick and simple process. 20 minutes is all it takes to completely charge an EV such as the Nissan Leaf, meaning your car could be fully charged in the time it takes to do your groceries.
And that's not the only steps Bayfair are taking to be clean and green.
"Bayfair's annual waste associated costs were lower in 2016 than in 2003, which is a huge accomplishment for the shopping centre. We will divert over 6,260 tonnes, 70% by volume of waste, from landfills over the next 10 years, saving over $1,000,000 in waste and transport costs. Included in the waste diversion is about 200 tonnes of organic waste per year. Our grey and rainwater system will also capture and reuse over 750M litres of water over the next 10 years."
What's more, through a combination of initiatives, including simply switching things off, the centres energy consumption has reduced from 2,255,542 kWh in 2003 to 1,567,655 kWh in 2016. In that same timeframe, the centres area has increased by 2,000sm/2. The combined initiatives that they have in place will mean Bayfair's energy-saving will exceed $1.7m over the next 10 years.
Personally, Steve is very interested in the electric vehicle industry and sustainability.
"I have an interest in being as green as possible across a lot of environmental areas. From my perspective, electric vehicles offer the council an opportunity to make real change over a relatively short time frame. When it comes to sustainability, I think people tend to look past the small changes because they see these as not being important or not having any significant impacts. However, small changes that are imbedded in your business or lifestyle are the first steps in making big changes over time."
Bayfair is certainly a leading force in sustainability efforts and the EV industry, and show no signs of slowing down.
Along with their continued environmental efforts, Bayfair are also working towards installing additional chargers over the next few years, so watch this space – you may even see an Ubco or two making the most of their charging services.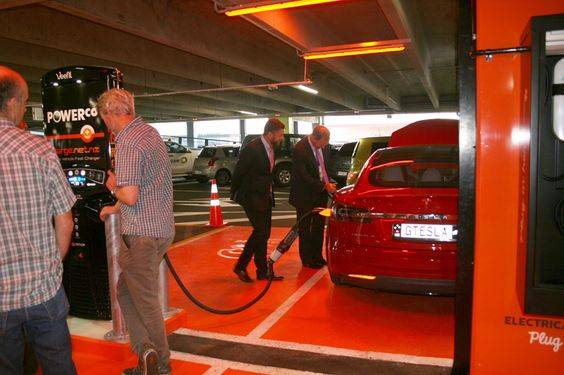 Bayfair's new charging stations being tested by a new model Tesla at their opening event.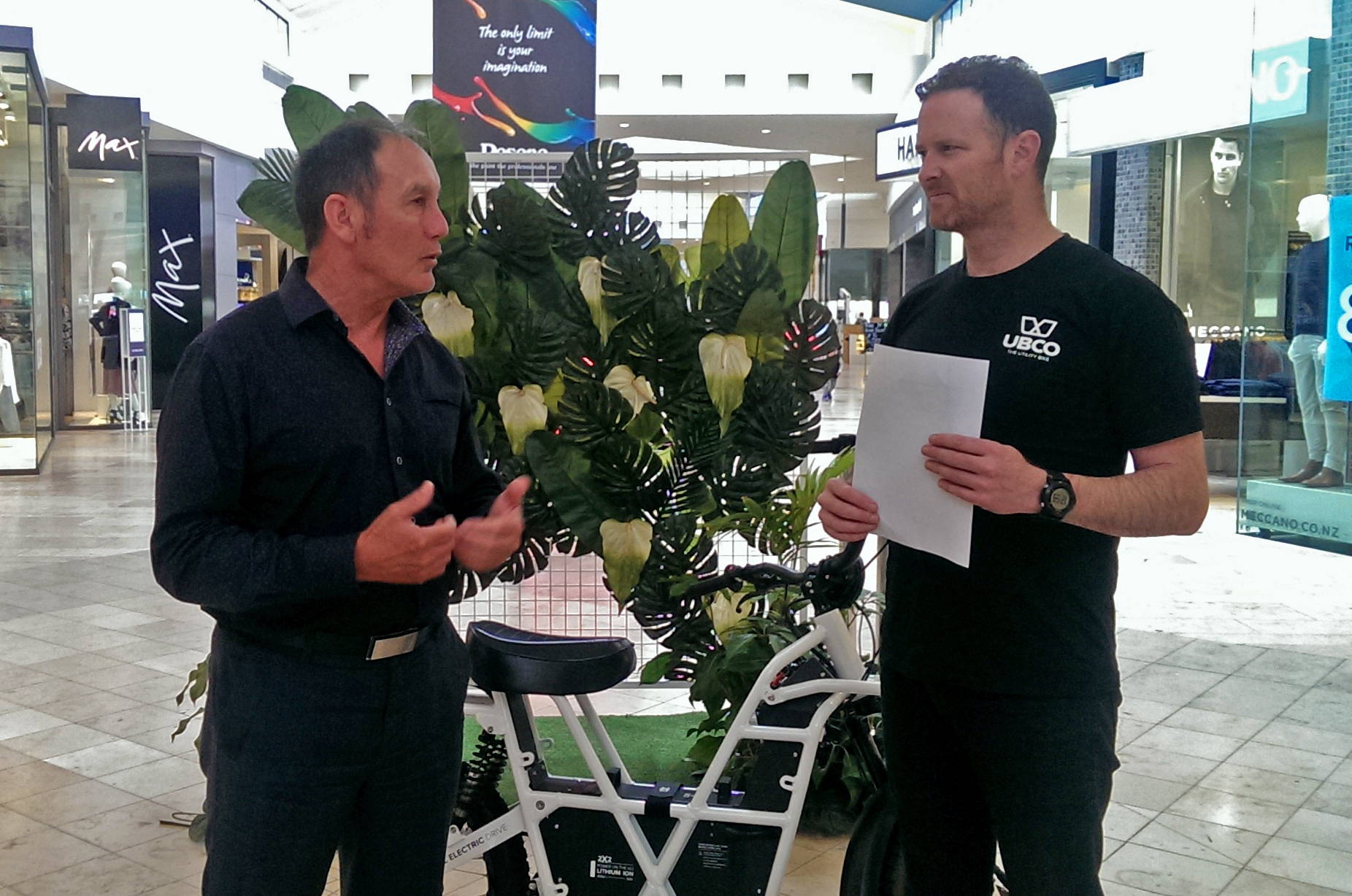 Steve and UBCO CEO, Timothy Allan, catching up at Bayfair Shopping Centre.