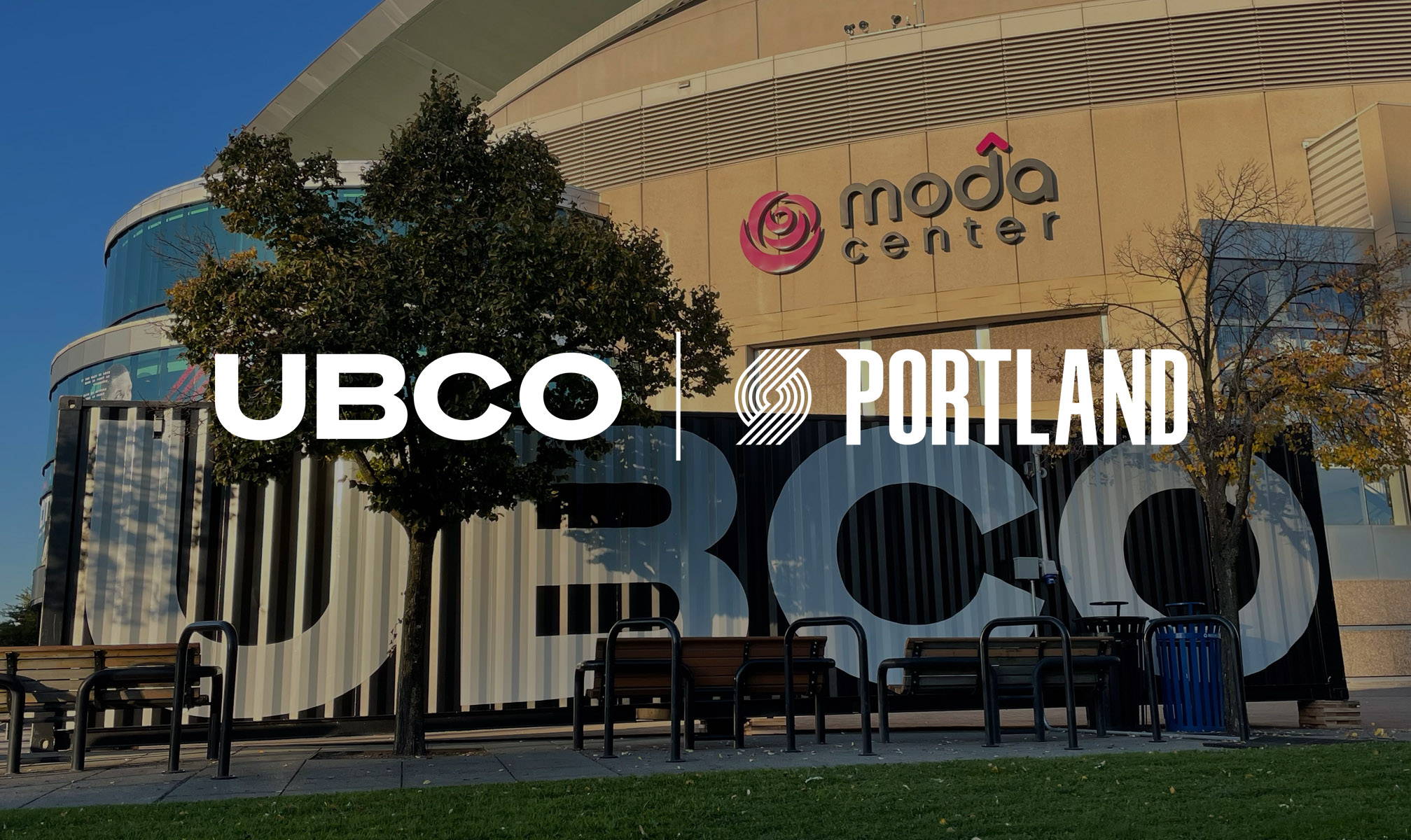 Today, Oregon-based UBCO – a pioneer in electric adventure bikes – announces its official partnership with the NBA's Portland Trail Blazers. The partnership marks the brands' alignment in a number of areas, primarily a focus on sustainability initiatives such as emission-free commuting and paths toward more environmental stewardship in adventure.
Kicking off in 2023, UBCO and the Trail Blazers will launch a series of initiatives that highlight both companies' local Pacific Northwest roots, helping to expand off-road riding and every-day adventure to more people in a sustainable and innovative way. Fans can look forward to exciting in-arena activations and engagements with mascot Blaze the Trail Cat; community and cause-driven events; sweepstakes for Blazers-themed UBCO 2X2 Adventure Bikes; and special promotions for Trail Blazers ticket holders and the general public.
"As we look for different ways to engage with our fans, UBCO has presented itself as an innovative partner that aligns with our core values," said Dewayne Hankins, President of Business Operations for the Portland Trail Blazers & Rose Quarter. "UBCO's Adventure Bikes are a great opportunity for our Pacific Northwest community to stay active and explore in a sustainable manner. We're excited to work together to provide wider access to the sustainable and versatile motorcycles through the unique flagship hub on our Rose Quarter campus launching in 2023."
Most notably, the partnership will include the launch of UBCO's first experience-driven flagship hub where residents in the Pacific Northwest can learn more about UBCO's easy to ride and versatile on- and off-road adventure bikes. Guests will be invited to try out the bikes with free guided test rides and be entered to win exciting game night experiences at Trail Blazers games.  
"We are thrilled to work with the Trail Blazers to bring UBCO's iconic and sustainable electric adventure bikes to their passionate fans, and the greater Portland community," said Phil Harrison, Chief Revenue Officer for UBCO. "Our goal is to help more people experience the joy of motorized riding and adventure. This partnership will help us do that, providing wider access to the easiest, most versatile, and sustainable motorcycle ever."
The UBCO retail hub will open in early 2023 outside Moda Center on the Rose Quarter campus. To get updates on the hub launch and a chance to win exciting game night experiences, visit ubco.com/trailblazers to register your interest for test rides.
ABOUT THE PORTLAND TRAIL BLAZERS  
Members of the National Basketball Association (NBA), the Portland Trail Blazers were founded in 1970 and purchased by the late Paul G. Allen in 1988. The team's rich heritage includes 37 playoff appearances, three trips to the NBA Finals, an NBA championship in 1977 and a commitment to community service and sustainability. The Trail Blazers are dedicated to positively impacting underserved kids and their families throughout Oregon and Southwest Washington where they live, learn and play. Portland is the first and only professional sports franchise to receive the prestigious National Points of Light Award for excellence in corporate and community service. The Trail Blazers home arena, Moda Center, is the first existing arena to earn LEED Platinum Certification in 2019, which was recertified in 2022, after receiving LEED Gold Recertification in 2015 and becoming the first existing professional sports venue in the world to receive LEED Gold status in 2010. The team is also one of the founding members of the Green Sports Alliance. For more information, visit trailblazers.com.